Wer schon mit dem Boot auf dem Erne gefahren ist, kennt sie. Gemeint sind die Schilder, auf denen in großen Buchstaben unüberlesbar "DEAD SLOW NO WAKE" steht und die seit 2005 dem Bootsfahrer eine wichtige Botschaft mitteilen.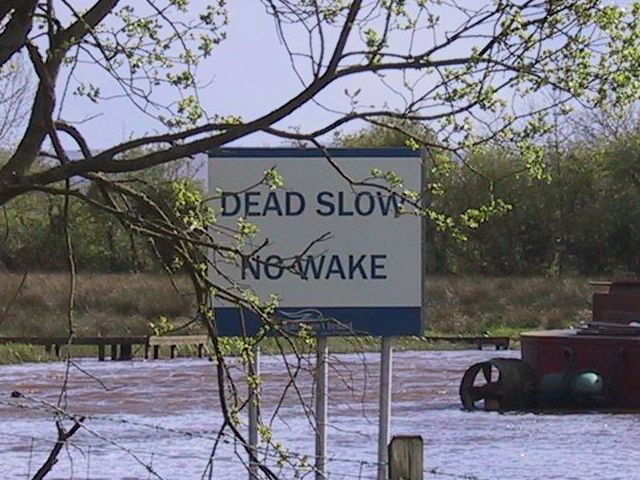 Sie appellieren an die Vernunft des Vorbeifahrenden, seine Geschwindigkeit und damit die Heckwelle zu reduzieren. Das soll Ufer und dort lebende und brütende Bewohner schützen. Doch leider scheinen einige Bootsführer des Lesens nicht mächtig zu sein. Oder vielleicht tun sie auch nur so. Der Hebel bleibt bei manchen unten. Entsprechend dem Bleifuß beim Autofahren besitzen sie beim Bootfahren wohl eine Bleihand. Das kann aber auch ins Auge gehen, weil die zuständigen Mitarbeiter von Waterways Ireland fleißig patrouillieren und möglicherweise hinter der nächsten Flussbiegung warten.
Beim Hochwasser im November, hätte man an verschiedenen Stellen ein paar mehr der Schilder "DEAD SLOW NO WAKE" gebrauchen können. Durch überflutete Straßen fahrende  4×4 -Offroads and Vans ließen das Wasser über Schwellen und Sandsäcke in Häuser schwappen.  Und auch an manch einem temporär entstandenen Wasserweg wären diese Schilder nützlich gewesen. In dem folgenden Video sieht man solch einen Wasserweg, auf dem Mitarbeiter der Share Holiday Village am Upper Lough Erne zur Arbeit rudern paddeln. Manche der dort vorbeifahrenden Leute machen am Steuer nicht unbedingt immer sanfte Wellen.
The well-known sign "DEAD SLOW NO WAKE" on the Erne would have been useful during the flood in November in some places. Wakes by 4×4 offroads and vans driving on flooded streets have caused that water sloped over door sills and sandbags. And the signs would  have also helped staff from Share Holiday Village while paddling with canoes to work.
Keine Kommentare
RSS feed for comments on this post.
Sorry, the comment form is closed at this time.