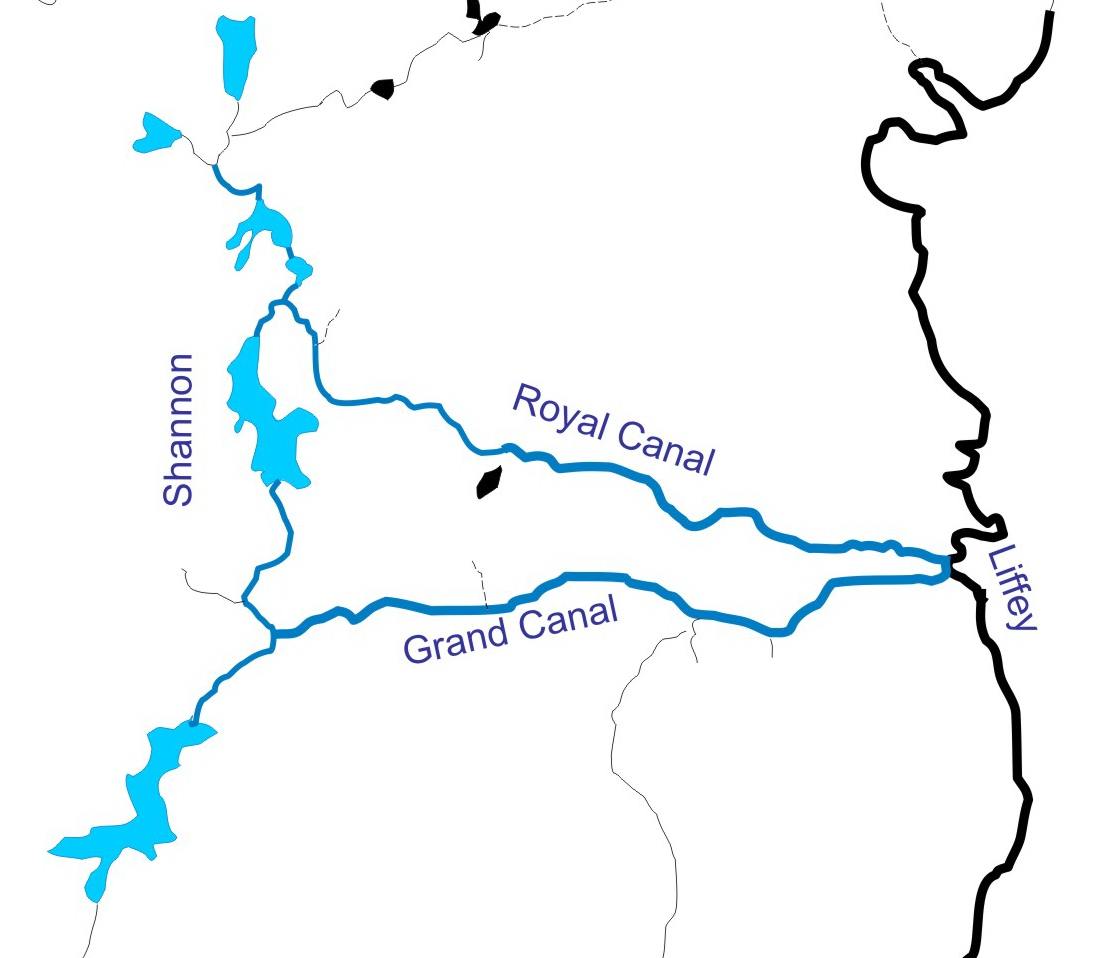 Die Green

&

Silver Route
Mick, Katie & Holly Farrell auf  der 31B
Und ein weiteres Boot hat sich seinen Platz in der Liste derjenigen erworben, die auf den Spuren von Tom and Angela Rolt die Green & Silver Route in diesem Jahr befahren haben.
Mick, Katie & Holly Farrell sind mit der 31B  die Route über den Royal Canal nach Richmond Harbour, nach einem Abstecher in die Carnadoe Waters über Lough Ree nach Shannon Harbour und durch den Grand Canal zurück nach Dublin gefahren, wo sie mit dem Sea Lock das Ende der Rundfahrt erreichten.
Viele nette und interessante Menschen haben sie unterwegs getroffen. Mick hat im IWAI Forum in einem Blog über seinen Reisefortschritt berichtet. Er hat gezeigt, dass auch ein historisches B-Boot, ein sogenannter Bye-Trader, mit 60 feet Länge und einer Breite von 12 feet 9 inch und hohem Steuerhaus den Royal Canal befahren kann. Dass es dabei manchmal an niedrigen und engen Brücken eng wurde, hat ihn nicht davon abgehalten, weiter zu fahren. Da viele Mietboote in ihren Abmessungen kleiner sind, eröffnet sich hier ein neues Revier, von Richmond Harbour aus Richtung Dublin und zurück zu fahren. Dabei bieten Boote mit weedhatch einen großen Vorteil. Gerade der erste Teil des Royal Canal zum Shannon hin ist landschaftlich sehr abwechslungreich.
Ach was schreibe ich hier so viel über diesen Trip; Bilder sagen doch mehr als tausend Worte. Klick auf die Fotos und schaut euch doch einfach die interessanten Bilder auf der Seite der Dublin Branch und den Online Reisebericht im IWAI Forum an.
Am letzten Wochenende wurde Mick für diese Leistung die Green&Silver-Plakette fürs Boot und der entsprechende Wimpel von einem Komitee der Dublin Branch überreicht.
Thanks to Michael and Conor for the great pictures.
2 Comments »
Danke Willi, sehr gutt….!!

M(W&W)F

Hi Mick,
Thank you for your comment. It was nice to meet you at the Grand Canal. I hope to see you again.
T&W
RSS feed for comments on this post.
Leave a comment
Du musst angemeldet sein, um einen Kommentar abzugeben.