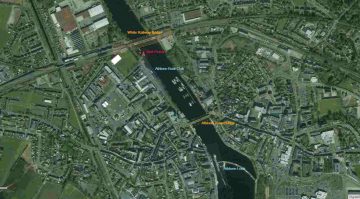 MARINE NOTICE, No. 56 of 2018
Shannon Navigation
Athlone
Athlone River Festival
Waterways Ireland wishes to advise masters and owners that the above festival will take place on Saturday 30th June and Sunday 1st July 2018.
An IWAI motor cruiser flotilla sail past will take place at 1200hrs on Sat 30th June 2018 between West Quay, lock and Railway Bridge.
Various water based activities will take place between the Railway Bridge and the Town Bridge on Sun 13th from 1000hrs until 1900hrs.
Masters are requested to take heed of advice and directions from safety craft monitoring the event and to proceed at slow speed and with minimum wash while passing through the area as low freeboard craft will be participating in it and swimmers may be in the water.
Waterways Ireland thanks its customers for their cooperation.
P Harkin, Inspector of Navigation, 25 June 2018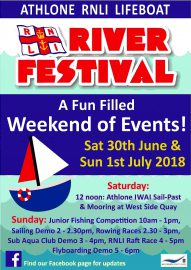 Athlone River Festival
Waterways Ireland möchte Kapitäne und Schiffseigentümer darauf hinweisen, dass das Festival am Samstag, den 30. Juni und Sonntag, den 1. Juli 2018 stattfinden wird.
Eine IWAI Motorkreuzer-Flottille wird um 1200 Uhr am 30. Juni 2018 zwischen West Quay, Schleuse und Railway Bridge vorbeifahren.
Zwischen der Eisenbahnbrücke und der Stadtbrücke am 13. September von 1000 Uhr bis 1900 Uhr finden verschiedene Aktivitäten auf dem Wasser statt.
Die Kapitäne werden gebeten, den Rat und die Anweisungen der Sicherheitsfahrzeuge zu befolgen, die die Veranstaltung überwachen, und mit geringer Geschwindigkeit und minimalem Wellengang durch das Gebiet zu fahren, da an ihr niedrige Freibordboote teilnehmen und Schwimmer im Wasser sein können.