Bankmooring im Cappagh-River; Lough Derg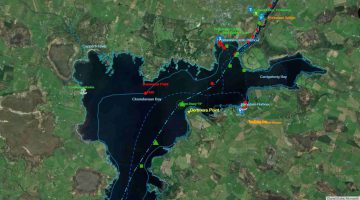 Ein toller Bankmooringplatz liegt im nördlichen Lough Derg. Es ist ein kleiner Fluß der bei Bunowen Island in die Cloondavaunbay mündet. Von der Mündung bis zum Bankmooringplatz sind es ca. 1,4 km flussaufwärts bis zu der Stelle wo sich der Cappagh-River teilt. Nach Backbord geht es in den Kilcrow-River, folgt man dem Verlauf des Cappagh-River nach Steuerbord erreicht man nach ca. 200m die schönsten Mooringplätze. Man findet einige stabile Bäume, an denen man bedenkenlos Festmachen kann. Wir haben hier unsere Erfahrung bei Windstärke 5-6, in Böen 7-8 Bft. gemacht. Die Anfahrt habe ich in der Karte, zur Übersicht Foto anklicken, durch die rote Kurslinie gekennzeichnet. Linie anklicken und dder Steuerkurs ist ablesbar. Die Kurslinien sind übrigens auch die idealen Kurse die bei zunehmendem Wind aus nördlichen oder westlichen Richtungen ideal zum Erreichen von Portumna/Terryglass im Norden oder im Süden Killgavan sind. Probleme gibt es keine, wenn man etwa auf der Hälfte (500m) zwischen der Cloondavaun-Marina und der Mündung des Cappagh-River nicht vom Kurs nach Steuerbord abkommt. Hier liegt der bekannte "Becker's Rock" und kurz davor noch eine Untiefe.
Beim Befahren des Cappagh-Rivers ist zuvor die Genehmigung des Vermieters einzuholen, und sich den Kurs genauestens einzuprägen. Diese Karte dient nicht zur Navigation sondern nur zur Information.
| | |
| --- | --- |
| Entrance Cappagh River © CHB | Entrance Cappagh River © CHB |
| Crossing Cappagh Kilcow River © CHB | Natur pur Cappagh River © CHB |
| Panoramic View Cappagh River © CHB | Bankmooring Place Cappagh River © CHB |
Bankmooring in the Cappagh River; Lough Derg
A great bankmooring site lies in northern Lough Derg. It is a small river that flows into the Cloondavaunbay at Bunowen Island. From the estuary to Bankmooringplatz it is about 1.4 km upstream to the point where the Cappagh River divides. To port it goes into the Kilcrow-River, one follows the course of the Cappagh-River to starboard one reaches after approx. 200m the most beautiful mooring places. There are some stable trees to which one can moor without hesitation. We made our experience here with wind force 5-6, in gusts 7-8 bft. I have the approach in the map, to the overview photo click, by the red course line marked. Click on the line and the course can be read. The course lines are by the way also the ideal courses with increasing wind from northern or western directions ideal for reaching Portumna/Terryglass in the north or Killgavan in the south. There are no problems if you don't deviate from the course to starboard about halfway (500m) between the Cloondavaun-Marina and the mouth of the Cappagh-River. Here lies the famous "Becker's Rock" and shortly before that a shallow.
When driving on the Cappagh River, the permission of the landlord must be obtained beforehand and the course must be memorised as precisely as possible. This map is not for navigation but for information only.