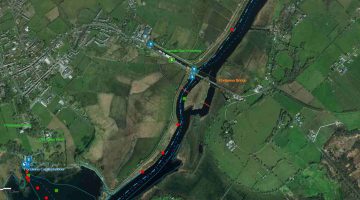 MARINE NOTICE, No 4 of 2018
Shannon Navigation
Temporary Closure of Slipway Adjoining N65 Bridge Road in Portumna
Waterways Ireland wishes to advise masters, owners of vessels that, following a review of the ESB Shannon Forecasting Model and an inspection of water levels at Portumna, Galway County Council will install flood defence barriers across the slipway adjoining the N65 Bridge Road in Portumna between Emerald Star & WI Offices.
While these barriers remain in place the slipway will not be available for normal operations.
These measures are being introduced in an effort to ensure the N65 roadway in Portumna remains free from flooding and open to traffic flow during the current severe weather conditions.
The flood defences in question will remain in place while a flood threat exists to the adjoining N65
Waterways Ireland thanks its customers for their co-operation in this matter and will advise once flood defences have been removed.
Shane Anderson, Assistant Inspector of Navigation, 25 January 2018
| | |
| --- | --- |
| Portumna-Bridge (Foto by BJG) | Slipway between WI-Emerald Star |
Zeitweilige Schließung der an die N65 angrenzenden Slipway-Brückenstraße in Portumna
Waterways Ireland möchte Kapitäne und Besitzer von Booten darauf hinweisen, dass das Galway County Council nach einer Überprüfung des ESB Shannon Forecasting Modells und einer Überprüfung der Wasserstände in Portumna, Hochwasserschutzwände über die Slipanlage an der N65 Bridge Road in Portumna zwischen Emerald Star & WI Offices installieren wird.
Solange diese Barrieren bestehen bleiben, steht die Slipanlage für den normalen Betrieb nicht zur Verfügung.
Mit diesen Maßnahmen soll sichergestellt werden, dass die N65 in Portumna auch unter den derzeitigen extremen Wetterbedingungen überflutungsfrei und verkehrsfrei bleibt.
Die betreffenden Hochwasserschutzmaßnahmen bleiben bestehen, solange eine Hochwassergefahr für die angrenzende N65 besteht.
Waterways Ireland dankt seinen Besuchern, Gästen und Kunden für die Zusammenarbeit in dieser Angelegenheit und wird sie informieren, sobald der Hochwasserschutz beseitigt ist.