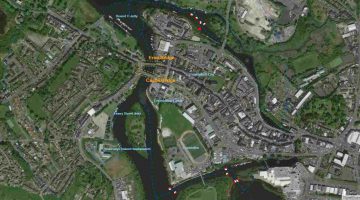 MARINE NOTICE, No. 43 of 2023
Erne System,
Enniskillen
Castle Museum jetty and navigation channel east of Castle Island.
Temporary Closure, 24 & 25 May 2023
Waterways Ireland wishes to advise Masters of Vessels and waterway users on the Erne System that the Castle Museum jetty and the navigation channel east of Castle Island will be closed to all vessels from 1200hrs on Wed 24th May to 1800hrs on Thursday 25th May 2023.
The designated area will be clearly marked by floating buoys. See map below.
A map of a river Description automatically generated with medium confidence Mariners should use the navigation channel to the west of Castle Island and proceed at slow speed and with minimum wash adhering to any instructions or displayed signage. Masters of Vessels should be aware of small non-motorised craft also operating in the navigation.
Waterways Ireland thanks its customers for their cooperation.
P. Harkin, Inspector Of Navigation, Waterways Ireland, 23 May 2022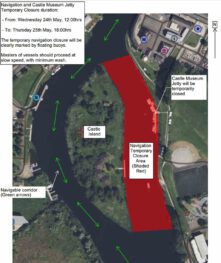 Erne-System, Enniskillen
Steg des Castle Museum und Fahrrinne östlich von Castle Island, Vorübergehende Schließung, 24. und 25. Mai 2023
Waterways Ireland möchte die Kapitäne von Schiffen und die Nutzer der Wasserstraßen im Erne-System darauf hinweisen, dass der Castle Museum-Anleger und die Fahrrinne östlich von Castle Island von Mittwoch, den 24. Mai um 1200 Uhr bis Donnerstag, den 25. Mai 2023 um 1800 Uhr für alle Schiffe gesperrt werden.
Das ausgewiesene Gebiet wird durch schwimmende Bojen deutlich gekennzeichnet sein. Siehe Karte oben.
Karte eines Flusses Beschreibung automatisch generiert mit mittlerem Vertrauen
Seeleute sollten die Fahrrinne westlich von Castle Island benutzen und mit langsamer Geschwindigkeit und mit minimaler Aufspülung vorgehen, wobei sie sich an alle Anweisungen und angezeigten Schilder halten sollten. Schiffsführer sollten sich der kleinen nicht motorisierten Fahrzeuge bewusst sein, die ebenfalls in der Fahrrinne fahren.
Waterways Ireland dankt seinen Kunden für ihre Kooperation.