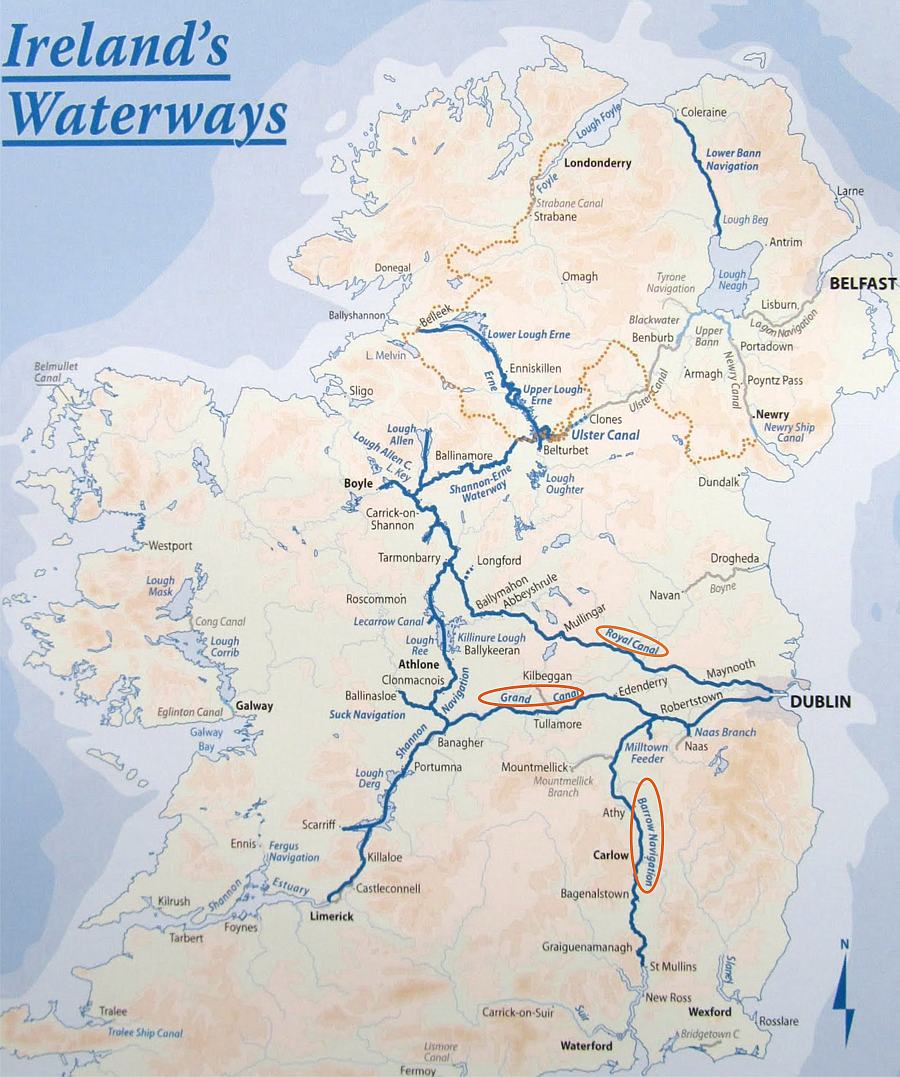 MARINE NOTICE, No 130 of 2013
GRAND, ROYAL CANALS AND BARROW NAVIGATION
PLANNED WINTER CLOSURES 2013-2014
Waterways Ireland wishes to advise Masters and owners of vessels that the following planned closures will be in place for the winter of 2013-2014.
Grand Canal–Main Line
 
Circular Line,Dublin
The Circular Line of the Grand Canal is closed to navigation between Lock C3 (Upper Mount Street) and Lock C5 (Leeson Street) from October to December 2013 to facilitate the installation of new lock gates.
Ardclough, Co. Kildare
The Grand Canal is closed to navigation on the 13th Level, downstream of Ponsonby Bridge near Ardclough, Co. Kildare, from November 2013 to February 2014 to facilitate works by Kildare County Council associated with the construction of a new distribution watermain.
Sallins, Co. Kildare
The public moorings immediately East and West of Sallins Bridge are closed until mid-March 2014 to facilitate the construction of new houseboat and public jetty facilities.
Ballycommon to Clonony,
Co. Offaly
The Grand Canal is closed between the 34th Lock at Clonony and the 21st Lock at Ballycommon from Monday 4th November until Friday 20th December 2013 to facilitate maintenance works.
Grand Canal–
Barrow Line

 
Vicarstown, Co. Laois
Possible closure of the canal in the Vicarstown area to facilitate bridge repairs – further details to follow.
Royal Canal
Spencer Dock,

 
Newcomen Bridge
There will be no further lifts of Newcomen railway bridge until the 2014 boating season.
Ashtown to Castleknock, Dublin 15
The towpath of the Royal Canal between Ashtown (10th Lock) and Castleknock (12th Lock) is closed from October 2013 to February 2014, to facilitate the construction of new cycle path facilities.

 

An alternative route for towpath users will be sign-posted.
41st Level, Mosstown,
Co. Longford
The Royal Canal is closed at Mosstown until further notice due to a collapsed culvert.
Barrow Navigation
No closures are planned.
Charles Lawn, Lt Cdr(rtd), Inspector of Navigation, 21 November 2013