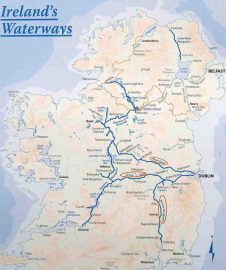 MARINE NOTICE, No 024 of 2019
All Navigations –
particularly Royal Canal
INVASIVE SPECIES ALERT – COYPU
Waterways Ireland wishes to advise all users of a large invasive rodent species that are highly damaging to River, Lake and Canal banks have been possibly sighted on the Royal Canal near Ashtown, Dublin.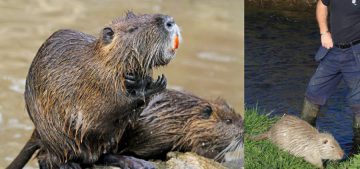 Yellow/orange front teeth, webbed feet, white muzzle. Up to 1m long (Eamonn Brennan)
The Coypu:
Are highly invasive impacting on wildlife, river and canal bank stability and is a pest of agriculture crops.
Eradication programmes can cost several millions of euro and are not always successful.
Carry a number of diseases of importance to humans and domestic animals.
Is a EU Regulated species of Union concern with trade, transport and reproduction restrictions in place [No.1143/2014]
Recent potential sighting of a Coypu in Cork City in 2017 and more recently on the Royal Canal in Ashtown Dublin in March 2019, raises concern of further spread.
What does it look like?
Large semi-aquatic rodent up to 1 meter in head to tail length.
Features same in juveniles.
It can weigh 5-9kg.
It has webbed hind feet.
Dark fur often with lighter ends and has a white muzzle,
Has long cylindrical tail (not fur tail like otter) and small slightly protruding ears.
Distinctive features are large bright orange-yellow incisor (front) teeth usually visible.
Coypu are generally found near permanent water.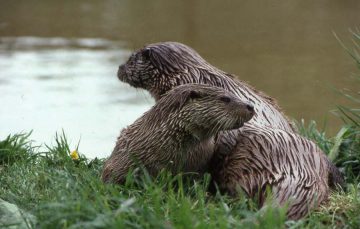 Please do not confuse it with the Common otter (shown below)
Peasedo not attemp to Engage trap or Harm these Animals:
Please keep a look out for these creatures along the waterways and especially along the Royal Canal at Ashtown and report sightings with photographs to any of the following below:
Date issued: May, 2017 V 1.0
Patrick Harkin, Inspector of Navigation, 20 March 2019
Invasive Artenalarm – COYPU
Waterways Ireland möchte alle Benutzer einer großen invasiven Nagetierart beraten, die die Ufer von Flüssen, Seen und Kanälen stark schädigt, die möglicherweise auf dem Royal Canal bei Ashtown, Dublin, gesichtet wurden.
Gelb-orange Vorderzähne, vernetzte Füße, weiße Schnauze (Foto Shutterstock). Bis zu 1m lang (Eamonn Brennan)
Die Coypu:
Sind sehr invasiv und beeinflussen die Stabilität der Tierwelt, der Flüsse und der Kanalufer und sind ein Schädling der landwirtschaftlichen Kulturen.
Ausrottungsprogramme können mehrere Millionen Euro kosten und sind nicht immer erfolgreich.
Tragen Sie eine Reihe von Krankheiten mit sich, die für Mensch und Haustier von Bedeutung sind.
Ist eine von der EU regulierte Art, die die Union angesichts der bestehenden Handels-, Transport- und Reproduktionsbeschränkungen betrifft[Nr. 1143/2014]?
Die jüngste mögliche Sichtung einer Coypu in Cork City im Jahr 2017 und kürzlich am Royal Canal in Ashtown Dublin im März 2019 gibt Anlass zur Sorge über eine weitere Verbreitung.
Wonach sieht es aus?
Großes halbaquatisches Nagetier bis zu 1 Meter in Kopf-an-Schwanz-Länge.
Merkmale wie bei Jugendlichen.
Er kann 5-9 kg wiegen.
Es hat Schwimmhäute an den Hinterfüßen.
Dunkles Fell, oft mit helleren Enden und weißer Schnauze,
Hat einen langen zylindrischen Schwanz (nicht Fellschwanz wie Otter) und kleine, leicht abstehende Ohren.
Unterscheidungsmerkmal sind große, leuchtend orange-gelbe Schneidezähne (Vorderzähne), die in der Regel sichtbar sind.
Coypu wird in der Regel in der Nähe von permanentem Wasser gefunden.
Bitte nicht mit dem Fischotter verwechseln (siehe unten). Bitte versuchen Sie nicht, diese Tiere anzugreifen, einzufangenoder zu verletzen:
Bitte halten Sie Ausschau nach diesen Kreaturen entlang der Wasserstraßen und insbesondere entlang des Königlichen Kanals von Ashtown und berichten Sie von Sichtungen mit Fotos zu einem der folgenden Punkte:
Datum der Ausstellung: Mai 2017 V 1.0