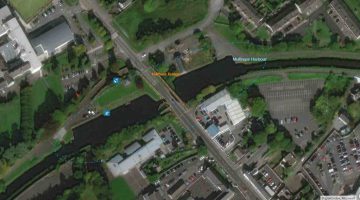 GENERAL MARINE NOTICE, No. 89 of 2023
Public Consultation on the introduction of revised Canals and Shannon Navigation Bye Laws – 19 June to 02 October 2023
Additional public consultation meeting on 21 September 2023 in Mullingar
Waterways Ireland is inviting members of the public and interested parties to have their say on proposed revisions to the Shannon Navigation and Canals bye-laws by making a submission to a public consultation which opened on Monday 19 June 2023.
The consultation covers the Shannon Navigation (including the Shannon-Erne Waterway) and the Royal and Grand canals and the Barrow Line & Navigation. The consultation runs from 19th June to 2nd October 2023.
There are three main ways in which you can learn about the proposed changes and participate in the public consultation.
1. At the additional public meeting where staff will provide information on the revisions. The meeting will take place as follows:


2. Visit our Website www.waterwaysireland.org and download the draft byelaws and the explanatory notes.
3. Visit a public library on the list on our website www.waterwaysireland.org and review the documents in person.
Feedback is welcome using the link on the website, or you can:
Following the public consultation, Waterways Ireland will review the submissions, make any necessary changes to the draft bye laws and submit them to the Minister for approval to proceed.
Details of submissions made to the Public Consultation will be published after the consultation closes.
The closing date for submissions to the public consultation is Monday, 2nd October 2023.
Waterways Ireland thanks its customers for their co-operation in relation to this matter.
P Harkin, Inspector of Navigation, Waterways Ireland, 31 August 2023
GENERAL MARINE NOTICE, Nr. 89 von 2023
Öffentliche Anhörung zur Einführung der überarbeiteten Canals and Shannon Navigation Bye Laws – 19. Juni bis 02. Oktober 2023
Zusätzliche öffentliche Konsultationssitzung am 21. September 2023 in Mullingar
Waterways Ireland lädt die Öffentlichkeit und interessierte Parteien ein, sich an einer öffentlichen Konsultation zu beteiligen, die am Montag, den 19. Juni 2023 eröffnet wurde, um ihre Meinung zu den vorgeschlagenen Änderungen der Shannon Navigation und der Canals Bye Laws zu äußern.
Die Konsultation betrifft die Shannon Navigation (einschließlich der Shannon-Erne-Wasserstraße), den Royal und Grand Canal sowie die Barrow Line & Navigation. Die Konsultation läuft vom 19. Juni bis zum 2. Oktober 2023.
Es gibt drei Möglichkeiten, sich über die vorgeschlagenen Änderungen zu informieren und an der öffentlichen Konsultation teilzunehmen.
1. Bei der zusätzlichen öffentlichen Sitzung, bei der die Mitarbeiter Informationen zu den Änderungen geben werden. Das Treffen findet wie folgt statt:

2. Besuchen Sie unsere Website www.waterwaysireland.org und laden Sie den Entwurf der Satzungen und die Erläuterungen herunter.
3. Besuchen Sie eine öffentliche Bibliothek, die auf der Liste auf unserer Website www.waterwaysireland.org aufgeführt ist, und sehen Sie sich die Dokumente persönlich an.
Rückmeldungen sind über den Link auf der Website willkommen, oder Sie können:
Senden Sie Ihre Eingabe per E-Mail an corporate@waterwaysireland.org
Per Post an: Waterways Ireland Inspectorate, Dock Rd, Athlone, Co Westmeath N37 RW26.
Im Anschluss an die öffentliche Konsultation wird Waterways Ireland die Eingaben prüfen, gegebenenfalls Änderungen an den Entwürfen der Nebengesetze vornehmen und sie dem Minister zur Genehmigung der weiteren Vorgehensweise vorlegen.
Einzelheiten zu den Eingaben, die im Rahmen der öffentlichen Konsultation eingereicht wurden, werden nach Abschluss der Konsultation veröffentlicht.
Der Einsendeschluss für die öffentliche Konsultation ist Montag, der 2. Oktober 2023.
Waterways Ireland dankt seinen Kunden für ihre Kooperation in dieser Angelegenheit.