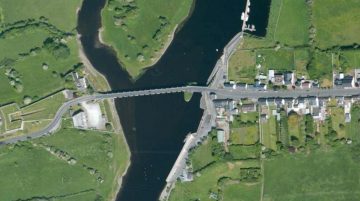 SHANNON NAVIGATION
Shannonbridge
Inspection & survey of Bord na Mona Railway Bridge
Waterways Ireland wishes to advise all Masters of vessels and water users that the following inspection & survey works will be carried out on the Bord na Mona Railway Bridge south of Shannon Bridge.
Inspection of bridge with underbridge truck unit from 15th & 16th May.
Survey of river channel by boat and by diving on 16th May.
A safety boat will be in the water at all times.
Masters of vessels and water users are requested to proceed with additional caution in the vicinity of this work.
Waterways Ireland thanks all vessel owners and operators for their co-operation in relation to this matter.
P Harkin, Inspector of Navigation, 09 May 2019
| | |
| --- | --- |
| Bord na mona Bridge near peat power plant | Peat transport at peat power plant |
Shannonbridge
Inspektion und Besichtigung der Bord na Mona Eisenbahnbrücke
Waterways Ireland möchte alle Kapitäne von Schiffen und Wassernutzer darüber informieren, dass die folgenden Inspektions- und Vermessungsarbeiten an der Eisenbahnbrücke Bord na Mona südlich der Shannon Bridge durchgeführt werden.
Inspektion der Brücke mit Unterbrücken-LKW-Einheit vom 15. bis 16. Mai.
Vermessung des Flusskanals mit dem Boot und mit dem Tauchen am 16. Mai.
Ein Sicherheitsboot wird immer im Wasser sein.
Schiffsführer und Wassernutzer werden gebeten, in der Nähe dieser Arbeiten mit zusätzlicher Vorsicht vorzugehen.
Waterways Ireland dankt allen Schiffseignern und Betreibern für ihre Zusammenarbeit in dieser Angelegenheit.