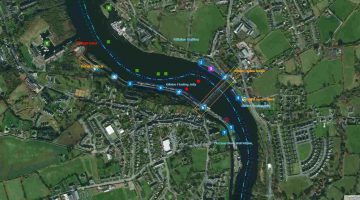 MARINE NOTICE, No. 75 of 2023
Shannon Navigation
Killaloe and Ballina
Irish Water outfall installation works, 21 August to 30 September 2023
Waterways Ireland wishes to advise Masters of Vessels and users of the Shannon Navigation that Irish Water will be installing an outfall downstream of Killaloe and Ballina from 21 August to 30 September 2023.
A Work barge will be launched from the carpark adjacent to the Waterways Ireland building in Killaloe and will operate south of the bridge adjacent to the Ballina Waste- water treatment plant for the duration of the works.
A computer screen shot of a map Description automatically generated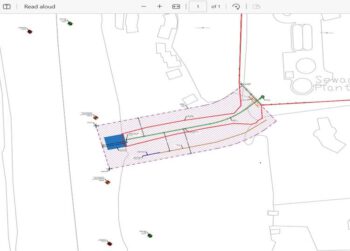 The outfall will extend from the Ballina Waste-Water Treatment plant into the river for a distance of 90 metres.
Two temporary special markers will be installed to mark the limits of the in-river works area downstream of Killaloe and Ballina. A permanent navigation marker will be installed when the works are completed.
Masters of Vessels should proceed with additional caution in the vicinity of the works.
Waterways Ireland thanks its customers for their understanding in relation to this matter.
P Harkin, Inspector of Navigation, 15 August 2023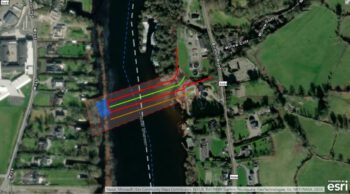 Shannon Navigation, Killaloe und Ballina
Installationsarbeiten am Auslass von Irish Water, 21. August bis 30. September 2023
Waterways Ireland möchte die Schiffsführer und Nutzer der Shannon Navigation darauf hinweisen, dass Irish Water vom 21. August bis zum 30. September 2023 stromabwärts von Killaloe und Ballina einen Auslass einbauen wird.
Ein Arbeitsschiff wird vom Parkplatz neben dem Gebäude von Waterways Ireland in Killaloe zu Wasser gelassen und während der Dauer der Arbeiten südlich der Brücke neben der Kläranlage von Ballina eingesetzt.
Ein Computerbildschirmausschnitt einer automatisch erstellten Karte Beschreibung
Der Auslass wird sich von der Kläranlage von Ballina über eine Strecke von 90 Metern in den Fluss erstrecken.
Es werden zwei vorübergehende Markierungen angebracht, um die Grenzen des Arbeitsbereichs im Fluss stromabwärts von Killaloe und Ballina zu markieren. Nach Abschluss der Arbeiten wird ein dauerhaftes Schifffahrtszeichen angebracht.
Die Kapitäne von Schiffen sollten in der Nähe der Arbeiten besonders vorsichtig fahren.
Waterways Ireland dankt seinen Kunden für ihr Verständnis in dieser Angelegenheit.