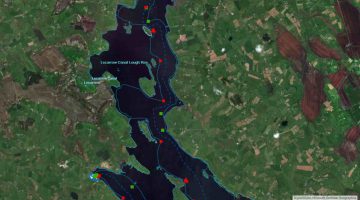 SHANNON NAVIGATION
Lecarrow Canal
Weed cutting – 27 May to 07 June 2019
Waterways Ireland wishes to advise all Masters of vessels and water users that weed cutting will take place on the Lecarrow canal from Monday 27 May to Friday 07 June 2019.
Masters of vessels and water users are requested to proceed with additional caution in the vicinity of this work.
Waterways Ireland thanks all vessel owners and operators for their co-operation in relation to this matter.
P Harkin, Inspector of Navigation, 23 May 2019
| | |
| --- | --- |
| Lecarrow Harbour Exit | Lecarrow Weedcutter |
Lecarrow Kanal Weed cutting – 27. Mai bis 07. Juni 2019
Waterways Ireland möchte alle Kapitäne von Schiffen und Gewässer-benutzern darauf hinweisen, dass die Unkrautbekämpfung am Lecarrow-Kanal vom Montag, den 27. Mai bis Freitag, den 07. Juni 2019 stattfinden wird.
Schiffsführer und Gewässerbenutzer werden gebeten, in der Nähe dieser Arbeiten mit zusätzlicher Vorsicht vorzugehen.
Waterways Ireland dankt allen Schiffseignern und Betreibern für ihre Zusammenarbeit in dieser Angelegenheit.