Übersetzung des Berichtes der
Killaloe Coast Guard
Nach einer langen und intensiven Suche unter Beteiligung der Wasserschutz-polizei, des RNLI, der Killaloe-Einheit der Küstenwache, des Hubschraubers der Irischen Küstenwache aus Shannon, der Mountshannon "Search & Rescue", des Tipperary Zivilschutz, des Lough Derg Sub Aqua und des Limerick Sub Aqua, wurde eine Leiche vom Unglücksort eines umgestürzten Sportbootes am 03.08.2012 von "Killaloe Ballina Search & Recovery"-Tauchern geborgen. Die sterblichen Überreste wurden von der Killaloe Coast Guard nach Dromineer gebracht.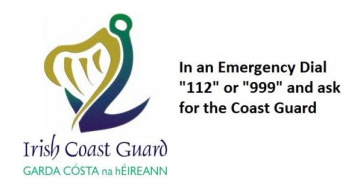 In Ireland we have two emergency numbers, 999 and 112. Remember when calling 112 (or 999), 'stay calm, stay focused and stay on the line'.
In Irland haben wir zwei Notrufnummern, 999 und 112. Denken Sie daran, wenn Sie 112 (oder 999) anrufen: "Bleiben Sie ruhig, bleiben Sie konzentriert und bleiben Sie auf der Leitung".