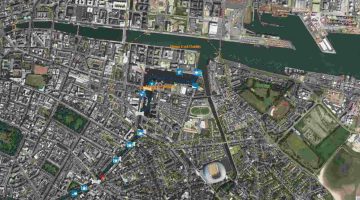 MARINE NOTICE, No. 76 of 2019
GRAND CANAL DUBLIN
Locks 1 & 2 Lock (Suir Road)
Emergency Works
Waterways Ireland wishes to advice all users of the Grand Canal that there has been a breach in the canal between Locks No.1 &. 2 on Suir Rd.
Water levels are currently very low.
Navigation is not possible at this time due to emergency works.
Waterways Ireland thanks it customers for their cooperation in this matter.
Patrick Harkin, Inspector of Navigation, 22 July 2019
Schleusen 1 & 2 (Suir Road) Notfallarbeiten
Waterways Ireland möchte alle Benutzer des Grand Canal darauf hinweisen, dass es einen Durchbruch im Kanal zwischen den Schleusen Nr. 1 & 2 gekommen ist auf der Suir Rd.
Der Wasserstand ist derzeit sehr niedrig.
Eine Navigation ist derzeit aufgrund der Notfallarbeiten nicht möglich.
Waterways Ireland dankt seinen Kunden für die Zusammenarbeit in dieser Angelegenheit.