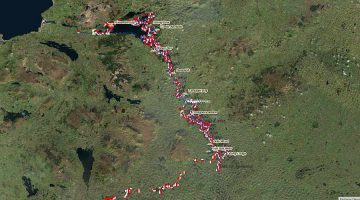 MARINE NOTICE, No.63 of 2020
Shannon Erne Waterway
Locks operating at Summer Hours from Monday 20th July 2020
Waterways Ireland wishes to advise masters and users of the Shannon-Erne Waterway that the Locks will be operating at Summer Hours from Monday 20th July 2020:
Lock Operating Hours
20th July onwards 9am – 8pm daily
Lock Passage
Lock passage will continue to be free as no units shall be deducted from the smart card during a lock operation. A smart card shall be required to operate the lock at all times to facilitate a lock passage.
Waterway Patrollers
Should you require assistance please contact the following:
Lock 1 +44 286 7748976
Ballyconnell Waterway Patroller +353 87 2603662
Ballinamore Waterway Patroller +353 87 2602478
Kilclare Waterway Patroller +353 87 2603663
Lock 16 +353 87 2608569
Carrick-on-Shannon Office +353 71 9650562
Smart Cards
Please note, Waterway Patrollers will be unable to sell smart cards to our customers at this time. Smart cards are to be purchased in advanced of embarking on a journey. Smart Cards can be purchased on Waterways Ireland's web shop or from designated retail outlets along the waterway.
For further information visit www.waterwaysireland.org
P Harkin, Inspector of Navigation, 17 July 2020  Tel: + 353 87 9852324
Schleusen in Betrieb zu den Sommeröffnungszeiten ab Montag, 20. Juli 2020
Waterways Ireland möchte die Kapitäne und Nutzer des Shannon-Erne-Wasserweges darauf hinweisen, dass die Schleusen ab Montag, dem 20. Juli 2020, zu den Sommerzeiten in Betrieb sein werden:
Betriebszeiten der Schleusen
20. Juli ab 9.00 – 20.00 Uhr täglich
Schleusendurchgang
Der Schleusendurchgang bleibt weiterhin frei, da während eines Schleusen-vorgangs keine Einheiten von der Chipkarte abgezogen werden dürfen. Um die Schleuse jederzeit bedienen zu können, ist eine Chipkarte erforderlich, um den Schleusendurchgang zu erleichtern.
Wasserstraßen-Patrouillen
Sollten Sie Unterstützung benötigen, wenden Sie sich bitte an folgende Stellen:-
Schleuse 1 +44 286 7748976
Ballyconnell-Wasserstraßen-Patrouille +353 87 2603662
Ballinamore Wasserstraßen-Patrouille +353 87 2602478
Wasserstraßen-Patrouille Kilclare +353 87 2603663
Schleuse 16 +353 87 2608569
Büro Carrick-on-Shannon +353 71 9650562
Chipkarten
Bitte beachten Sie, dass Waterway Patrolers derzeit keine Chipkarten an unsere Kunden verkaufen kann. Smart Cards müssen vor Antritt der Reise gekauft werden. Smart Cards können im Webshop von Waterways Ireland oder in ausgewiesenen Einzelhandelsgeschäften entlang der Wasserstraße erworben werden.
Für weitere Informationen besuchen Sie www.waterwaysireland.org