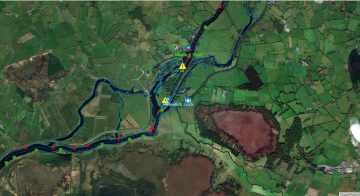 MARINE NOTICE, No. 02 of 2021
Shannon Navigation
Meelick
Closure of walkway wef 02 Jan 2021 until further notice
Waterways Ireland wishes to notify the public of the closure of the walkway at Meelick weir from Saturday 02 Jan 2021 until further notice.
The closure of the walkway is at the request of An Garda Siochana due to issues with compliance with social distancing protocols on and near the walkway.
Waterways Ireland apologies for any inconvenience caused and wishes to thank its customers for their cooperation.
Paddy Harkin, Cdr (Rtd), Inspector of Navigation, Waterways Ireland, The Docks, Athlone, Co Westmeath, 00 353 87 9852324
| | |
| --- | --- |
| Meelick Lock; © Map by CHB | Meelick Lock; © by CHB |
Meelick
Schließung des Fußweges ab dem 02. Januar 2021 bis auf weiteres
Waterways Ireland möchte die Öffentlichkeit über die Schließung des Fußwegs am Meelick-Wehr ab Samstag, den 02. Januar 2021 bis auf weiteres informieren.
Die Schließung des Stegs erfolgt auf Anfrage der An Garda Siochana aufgrund von Problemen mit der Einhaltung von sozialen Distanzierungsprotokollen auf und neben dem Steg.
Waterways Ireland entschuldigt sich für die entstandenen Unannehmlich-keiten und bedankt sich bei seinen Kunden für ihre Kooperation.