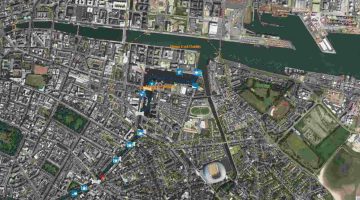 MARINE NOTICE, No 88 of 2020
Royal Canal Dublin
Navigation Closure to facilitate lock gate repairs
Waterways Ireland wishes to notify users of the canal navigations that the Royal Canal in Dublin requires repair / upgrading works to Link to ArcGis Webside Lock 12, Lock 10  and Spencer Dock Sea Lock before any of these locks can be used again for passage through the city.
Consequently, navigation in or out of the city on the Royal Canal is suspended until completion of all works.
Waterways Ireland thanks its customers for their understanding in this matter.
Patrick Harkin, Inspector of Navigation, 05 October 2020
Royal Canal Dublin
Navigationsschließung zur Erleichterung von Schleusentorreparaturen
Waterways Ireland möchte die Nutzer der Kanalschifffahrt darüber informieren, dass der Royal Canal in Dublin Reparatur-/Ausbauarbeiten an Link to ArcGis Webside Lock 12, Lock 10 und der Seeschleuse Spencer Dock erforderlich sind, bevor eine dieser Schleusen wieder für die Durchfahrt durch die Stadt genutzt werden kann.
Infolgedessen wird die Schifffahrt in oder aus der Stadt auf dem Königlichen Kanal bis zum Abschluss aller Arbeiten ausgesetzt.
Waterways Ireland dankt seinen Kunden für ihr Verständnis in dieser Angelegenheit.