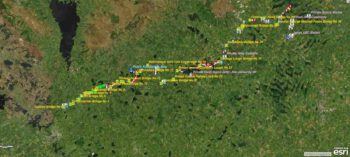 MARINE NOTICE, No. 88 of 2023
Shannon-Erne-Waterway,
Vegetation Managemenet
SEPTEMBER 2023 – FEBRUARY 2024
Waterways Ireland wishes to advise all Masters of vessels and users that tree trimming and hedge cutting will be carried out at various locations along the Shannon-Erne Waterway during the autumn/winter period.
During this operation floating pontoons will be located on the water with mechanical plant operating. Mechanical plant will also be in operation along the banks of the waterway. Masters will be advised by Waterways Ireland staff when making a passage, the co-operation of Masters is requested at this time.
Waterways Ireland regrets any inconvenience caused to its customers.
P Harkin, Inspector of Navigation, 29th August 2023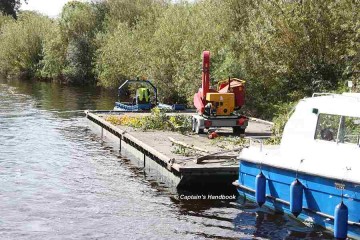 Shannon-Erne_Wasserstraße
Vegetationsmanagement, SEPTEMBER 2023 – FEBRUAR 2024
Waterways Ireland möchte alle Schiffskapitäne und Nutzer der Wasserstraße darauf hinweisen, dass im Herbst/Winter an verschiedenen Stellen des Shannon-Erne-Waterway Bäume beschnitten und Hecken geschnitten werden.
Während dieser Arbeiten werden schwimmende Pontons auf dem Wasser liegen, die mit mechanischen Geräten ausgestattet sind. Auch an den Ufern der Wasserstraße werden maschinelle Anlagen im Einsatz sein. Die Kapitäne werden von den Mitarbeitern von Waterways Ireland über die Durchfahrt informiert, und wir bitten die Kapitäne in dieser Zeit um ihre Mithilfe.
Waterways Ireland bedauert jegliche Unannehmlichkeiten für seine Gäste.