Coastal Cruising
Für den Mietbootfahrer endet irgendwo die Weiterfahrt auf den "Inland-Waterways" in Ireland durch einen Vermerk auf den Karten der Bootsvermieter " END of NAVIGATION". Hat auch seine Berechtigung, denn entweder ist das Boot nicht dafür geeignet und nicht versichert, oder der Kapitän mit seiner Crew wird überfordert mit der Planung, wenn man sich in Tidengewässer begeben will.
Das alles gilt für die einheimischen Bootsbesitzer nicht, ausser der Planung wie seetauglisches Boot (am besten zwei Motoren) Wetterbericht, Kursberechnung, Kenntnis der Tidentabelle und eine seefeste Mannschaft sind hier gefragt.
Dass wir dennoch tolle Bilder von jenseits des Sarsfield Locks bekommen, verdanken wir Mary & Paul, die mit "Arthur" von Portumna über Limerick, Kilrush, Fenit nach Dingle unterwegs waren. Paul hat die Trip in der Shannonmündung und den weiteren Küstenverlauf in seinem Fotoalbum dokumentiert.
| | |
| --- | --- |
| Sarsfield Lock; © Paul Scannel; CCO Part 1 | Beeves Rock Lighthouse;© Paul Scannell; |
| Kilrush Marina; © Paul Scannell;CCO Part 2 | Fenit Marina; © Paul Scannell; CCO Part 3 |
| Dingle Marina; © Paul Scannell; CCO Part 3 | Valentia and Skelling Islands; © PS |
Captain's Handbook"  hat den Kurs anhand der Fotos und der Kommentare für euch in ArcGis Map  nachgestellt. Viel Spaß beim anschauen.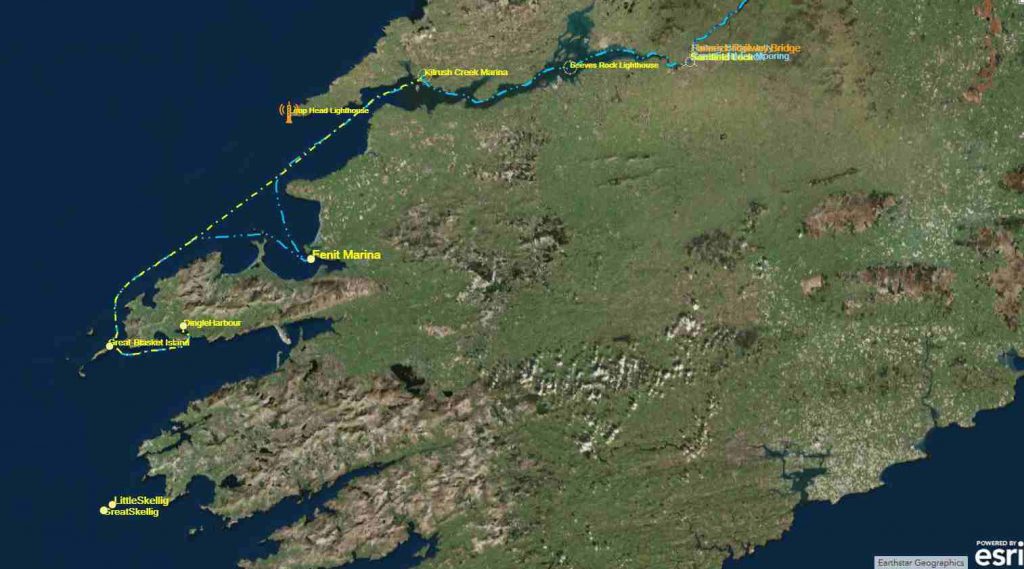 Dank an Paul, der mir die Bilder zur Verfügung gestellt hat.
Thanks to Paul for the beautiful pictures and detailed comments.