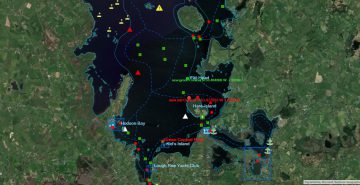 MARINE NOTICE, No 10 of 2014
Shannon Navigation
Lough Ree (South)
Coosan Point
Green Starboard Cage Buoy Off Station
Waterways Ireland wishes to advise owners and masters that the Green Starboard Cage Buoy located between Coosan Pt and Hare Island has been blown off station and is presently situated 50m to 60m off the eastern shore of Killinure Pt.
Masters are advised to navigate with due caution when in this area and refer to the Shannon Navigation Guide when on passage.
Weather conditions and high water levels will dictate when this buoy will be recovered and replaced in its position. A further marine notice will be issued to advise.
Charles Lawn, Inspector of Navigation,14  Feb 2014