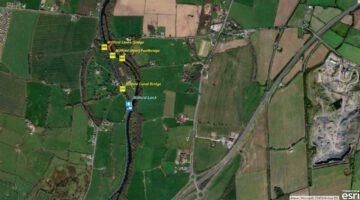 MARINE NOTICE, No. 27 of 2014
Barrow Navigation
Storm Damage Remedial Work
Waterways Ireland wishes to advise owners and masters that following the recent period of high winds and heavy rainfall there are a number of trees blocking the Barrow track line and some of the lateral canals on the Barrow Navigation.
Waterways Ireland staff are working to clear both the trackway and navigation however some of the banks have been flooded for the past 6 – 8 weeks and these have been inaccessible therefore anybody planning a voyage should consult Waterways Ireland staff member Mr Jim Butler on 087 1320234 or their local lock-keeper.
Please note also that the trackway between Milford and Rathvindon will be closed for the next six weeks because of damage caused by the floods.
Waterways Ireland regrets any inconvenience that this may cause its customers.
Charles Lawn, Inspector of Navigation, 10 Mar 2014