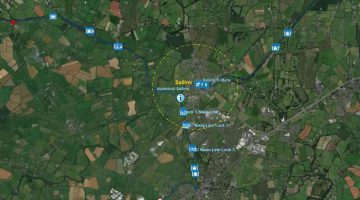 MARINE NOTICE, No 123 of 2023
Grand Canal
Reduced Water Level Between Locks 13 and 14
Waterways Ireland wishes to advise masters and owners of vessels that the water level in the Grand Canal between Locks 13 and 14 will be reduced by approximately 18 inches with immediate effect. The reduced water level will be in place until 1st February 2024.
Masters of vessels should check mooring lines regularly throughout this period.
Navigation in this section will be restricted and only possible by first contacting the area foreman on 087 359 9072.
Waterways Ireland regrets any inconvenience that this may cause and thanks its customers for their cooperation.
P Harkin, Inspector of Navigation, 09 November 2023
| | |
| --- | --- |
| Ponsonby Bridge; © royalcanalrunner | Devonshire Bridge;© royalcanalrunner |
Grand Canal, Reduzierter Wasserstand zwischen den Locks 13 und 14
Waterways Ireland möchte Kapitäne und Schiffseigner darauf hinweisen, dass der Wasserstand im Grand Canal zwischen den Locks 13 und 14 mit sofortiger Wirkung um etwa 18 Zoll gesenkt wird. Der reduzierte Wasserstand wird bis zum 1. Februar 2024 gelten.
Die Kapitäne der Schiffe sollten während dieses Zeitraums regelmäßig die Festmacher überprüfen.
Die Schifffahrt in diesem Abschnitt ist eingeschränkt und nur nach vorheriger Kontaktaufnahme mit dem Revierleiter unter 087 359 9072 möglich.
Waterways Ireland bedauert alle Unannehmlichkeiten, die dadurch entstehen können, und dankt seinen Gästen für ihre Kooperation.