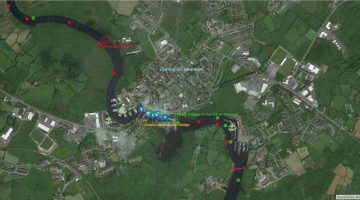 Shannon Navigation
Carrick-on-Shannon
Work on Overhead Power Lines
Waterways Ireland has been advised by ESB Networks that it proposes to carry out works associated with the re-conductoring of the existing Carrick on Shannon – Corderry – Arigna 110kV line.
The line passes over the River Shannon approximately 1 km north of the town bridge. The works will take place from the 26th June – 13th July 2016.
While it is not anticipated that the works will affect boat traffic, users should be aware of works in the area, approach with care and take heed of any instructions issued by ESB Networks.
Waterways Ireland thanks its customers for their cooperation in this matter.
C.J.Lawn, Inspector of Navigation, 9 Jun 2016