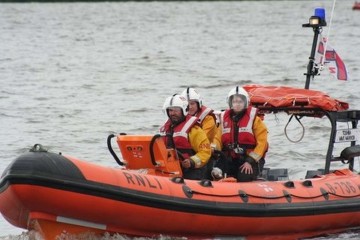 Terryglass 7 September 2011
Am letzten Mittwoch ist ein 35ft Cruiser nahe bei Terryglass Harbour auf Grund gelaufen. Wie kam es dazu? Wir wissen es nicht genau, nur so viel, dass das Ganze während eines Versuches geschah, einem anderen Boot zu Hilfe zu kommen. Dieses gelangte in tieferes Fahrwasser, während das zu Hilfe eilende Boot auflief, so sehr, dass zwei der vierköpfigen Besatzung zu Fuß an Land gestapft sind. Das Wetter war bei der ganzen Aktion sehr bescheiden, Regen erschwerte die Sicht und der Wind aus West/Südwest hatte Windstärke 4 in Böen 5. Das aufgelaufene Boot wurde von der RNLI crew runtergezogen und nach Terryglass geschleppt. Ein Loch hatte das Boot glücklicherweise nicht, aber die Schraube wurde erheblich beschädigt.
Was lernen wir daraus?
Erstens beim Auflaufen die Schraube nicht unnötig bewegen. Zweitens immer anderen Booten nur in tiefen Gewässern mit Motorproblemen oder in anderen Notfallsituationen sofort zu Hilfe eilen. Drittens dieses in flachen Gewässern unterlassen, erst Recht in der Nähe zum Seeufer. Viertens dieses gefälligst nicht mit einem großen Boot zu versuchen und fünftens RNLI spenden.
Hier die original Meldung:
At 12.24hrs September 7 Lough Derg RNLI Lifeboat launched, following a request by Valentia Coast Guard to assist a vessel aground close to Terryglass Harbour at the Northern end of Lough Derg.  The lifeboat, with helm Johnny Hoare, Ger Egan and David Moore on board, was alongside the casualty vessel at 12.51hrs.  Winds were West Southwest, Force 4 gusting 5, with frequent squally showers reducing visibility.  The vessel was aground very close to the shore and the two persons on board were safe and unharmed.  Two other passengers had walked to shore and made their way by road to Terryglass Harbour.  The vessel had got into difficulties after it had gone to the assistance of another cruiser; this other vessel had made it's way to safe water and was tied alongside at Terryglass Harbour when the lifeboat arrived on scene.  The vessel was taken off the rocks at 13.25hrs, she had suffered a lot of damage to her props but was not holed.  With an RNLI crew member on board the vessel was towed to Terryglass and was tied alongside at 13.50hrs. The lifeboat returned to station was ready for service again at 14.35hrs.  Helm Johnny Hoare said that he was "pleased with the progress of the rescue considering the conditions on the lake and the position of the boat in very rocky water".