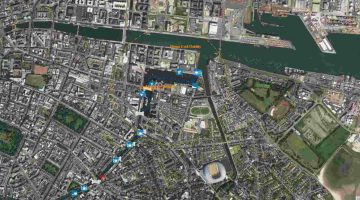 MARINE NOTICE, No. 81 of 2018
GRAND CANAL
Traffic Restrictions Grand Canal Dock
Waterways Ireland wishes to advise all Masters of vessels and water users that a series of Dragon Boat Races will take place in Grand Canal Dock on 30th August and 15th and 16th September.
Traffic through General McMahon Bridge will be restricted from 13:00hrs to 20:00hrs on the 30th August and from 09:00hrs to 19:00hrs on the 15th and 16th September.
Waterways Ireland thanks all vessel owners and operators for their co-operation in relation to this matter.
P Harkin, Inspector of Navigation, 20 August 2018