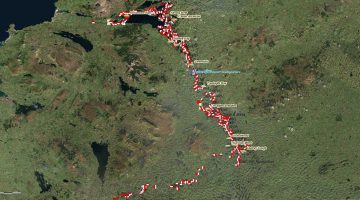 Erne System
New Trial Initiative by Fermanagh & Omagh District Council
Visitor Litter Collection Points
Waterways Ireland wishes to advise masters and owners of vessels of the following notice by Fermanagh & Omagh District Council for a new initiative in waste management which relates to the Erne System.
New Trial Initiative – Visitor Litter Collection Points
Over the past few years, Fermanagh and Omagh District Council has invested heavily in the provision of extensive waste disposal facilities across the district to protect and sustainably manage the environment. This provision has also been designed to encourage residents of and visitors to the district to dispose and recycle their waste through the appropriate facilities. Despite this investment, the Council spent £1.76 million last year in providing Street Cleansing and dealing with litter and fly-tipping.
Unfortunately, the Council has experienced in recent years, particularly during spells of good weather, significant increases in littering and fly-tipping of rubbish at most of our prominent beauty spots.
The litter bins provided across the District for the disposal of litter i.e. small items of waste was not designed for, nor has the capacity to deal with the disposal of commercial (business) waste or household waste. A significant number of sites are unfortunately frequently abused by members of the Public with some sites requiring servicing up to three times daily to remove litter and rubbish. This places strain in the existing Street Cleansing resources and budget as well as creating a negative impact and impression of the local area.
Visitors to our District such as boat users and motor homes generate waste that should be brought home for disposal via the household kerbside bin collection service or to any of the recycling centres across the district. Visitors using hire boats or motor homes should return waste to the hire company to dispose of through its commercial waste disposal arrangements.
The Council supports and encourages the 'Leave No Trace' principle, however the reality faced by the Council is that this principle is not accepted by all the public. Litter bins therefore need to be provided and if a litter bin is full, members of the public should take their litter home to prevent it from creating a mess and posing a health risk to residents and wildlife.
The Council also recognises that some of our visitors who do not have access to the existing household collection or Civic Amenity facilities, require a disposal point which has the capacity to deal with the significant waste generated particularly over spells of good weather and Bank Holiday periods.
Working in partnership with Waterways Ireland, the Council has developed and proposed a trial scheme Visitor Litter Collection Points scheme.
This trial scheme proposes the installation of three collection point locations at Bellanaleck Marina, Lakeland Forum and Round O park. These collection points will each contain 10 bins, 5 for recyclable waste and 5 for general waste. The bins are contained within a steel unit and signage will be displayed on the outside of the units to indicate their purpose.
New Visitor Litter Disposal Point
It is hoped that these dedicated collection points will collate the disposal of visitor litter to both assist existing resources and reduce the amount of litter and waste left behind at remote sites.
If successful, FODC plan to roll out the introduction of additional 'Visitor Litter Collection Points' at busy tourist locations throughout the district.
Waterways Ireland encourages all users of the Erne System to co-operate with this important initiative by adhering to the Council's advice set out in the notice above.
P Harkin, Inspector of Navigation, 23 April 2019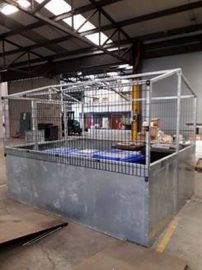 Neue Probe-Initiative des Bezirksrates von Fermanagh & Omagh – Abfallentsorgung  für Irlandurlauber
Waterways Ireland möchte die Kapitäne und Schiffseigner über die folgende Mitteilung des Bezirksrates von Fermanagh & Omagh über eine neue Initiative zur Abfallwirtschaft im Zusammenhang mit dem Erne-System informieren.
Neue Versuchsinitiative Besucherabgabestellen für Abfälle
In den letzten Jahren hat der Bezirk Fermanagh und Omagh massiv in die Bereitstellung umfangreicher Abfallentsorgungs-einrichtungen im gesamten Bezirk investiert, um die Umwelt zu schützen und nachhaltig zu wirtschaften. Diese Bestimmung soll auch die Bewohner und Besucher des Stadtteils ermutigen, ihre Abfälle über die entsprechenden Einrichtungen zu entsorgen und zu recyceln. Trotz dieser Investition hat der Rat im vergangenen Jahr 1,76 Millionen Pfund für die Straßenreinigung und den Umgang mit Abfall und Fliegenspitzen ausgegeben.
Leider hat der Rat in den letzten Jahren, insbesondere bei gutem Wetter, einen deutlichen Anstieg der Verschmutzung und der Müllabfuhr an den meisten unserer markanten Sehenswürdigkeiten erlebt.
Die im gesamten Bezirk zur Verfügung gestellten Abfallbehälter für die Entsorgung von Abfall, d.h. kleine Abfälle, sind nicht für die Entsorgung von Gewerbeabfällen oder Hausmüll bestimmt und auch nicht für die Entsorgung von Gewerbeabfällen. Eine beträchtliche Anzahl von Standorten wird leider häufig von der Öffentlichkeit missbraucht, wobei einige Standorte bis zu dreimal täglich gewartet werden müssen, um Müll und Abfall zu entfernen. Dies belastet die vorhandenen Ressourcen und das Budget der Straßenreinigung und führt zu negativen Auswirkungen und Eindrücken in der Region.
Besucher unseres Bezirks wie Bootsbenutzer und Wohnmobile erzeugen Abfälle, die über den haushaltsnahen Abfallsammelservice oder zu einem der Recyclingzentren im gesamten Bezirk zur Entsorgung nach Hause gebracht werden sollten. Besucher, die Mietboote oder Wohnmobile benutzen, sollten den Abfall an den Vermieter zurückgeben, um ihn über seine gewerbliche Abfallentsorgung zu entsorgen.
Der Rat unterstützt und unterstützt das Prinzip "Leave No Trace", doch die Realität, mit der der Rat konfrontiert ist, ist, dass dieses Prinzip nicht von allen Bürgern akzeptiert wird. Daher müssen Abfallbehälter bereitgestellt werden, und wenn ein Abfallbehälter voll ist, sollten die Bürger ihre Abfälle mit nach Hause nehmen, um zu verhindern, dass sie ein Chaos verursachen und ein Gesundheitsrisiko für Bewohner und Wildtiere darstellen.
Der Rat erkennt auch an, dass einige unserer Besucher, die keinen Zugang zur bestehenden Haushaltssammlung oder zu den Einrichtungen für bürgerliche Fürsorge haben, eine Entsorgungsstelle benötigen, die in der Lage ist, die erheblichen Abfälle zu entsorgen, die insbesondere in Zeiten von gutem Wetter und Feiertagen entstehen.
In Zusammenarbeit mit Waterways Ireland hat der Rat ein Versuchsprogramm für Besucher-Abfallsammelstellen entwickelt und vorgeschlagen.
Dieses Versuchsprogramm sieht die Einrichtung von drei Sammelstellen am Bellanaleck Marina, Lakeland Forum und Round O Park vor. Diese Sammelstellen werden jeweils 10 Behälter, 5 für recycelbare Abfälle und 5 für allgemeine Abfälle enthalten. Die Behälter sind in einer Stahleinheit untergebracht, und auf der Außenseite der Einheiten werden Beschilderungen angebracht, um ihren Zweck anzuzeigen.
Neuer Besucher Abfallentsorgungspunkt
Es ist zu hoffen, dass diese speziellen Sammelstellen die Entsorgung von Besucherabfällen sammeln, um sowohl die vorhandenen Ressourcen zu unterstützen als auch die Menge an Abfall und Abfall, die an entlegenen Orten zurückgelassen wird, zu reduzieren.
Im Erfolgsfall plant das EDI die Einführung zusätzlicher "Visitor Litter Collection Points" an stark frequentierten Touristenstandorten im ganzen Bezirk.
Waterways Ireland ermutigt alle Benutzer des Erne-Systems, bei dieser wichtigen Initiative mitzuwirken und sich dabei an die Empfehlungen des Rates aus der oben genannten Mitteilung zu halten.