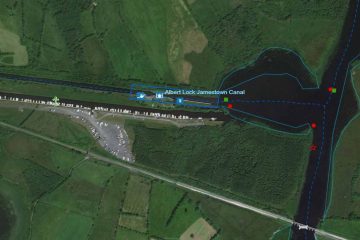 MARINE NOTICE, No 15 of 2020
SHANNON NAVIGATION
Jamestown Canal
Closure of navigation due to high water levels
Waterways Ireland wishes to advise masters and owners of vessels that Jamestown Canal is closed to navigation until further notice due to high water levels.
Waterways Ireland will be installing a dam system on the upstream side of Corlura bridge in order to control the water levels and to protect the integrity of the canal banks. This dam system will remain in place until the water levels drop. This section of navigation will be impassable whilst this dam is in place. Waterways Ireland will remove the dam as soon as the water levels reduce.
Waterways Ireland regrets any inconvenience this may cause and thanks its customers for their cooperation.
P Harkin, Inspector of Navigation, 18 February 2020
| | |
| --- | --- |
| Albert Lock Jamestown Canal Jetty | Albert Lock Jamestown Canal In der Schleuse |
| Jamestown-Canal-Bridge; © CHB | Jamestown-Harbour; © CHB |
Jamestown-Kanal
Sperrung der Schifffahrt aufgrund hoher Wasserstände
Waterways Ireland möchte Kapitäne und Schiffseigner darauf hinweisen, dass der Jamestown-Kanal aufgrund hoher Wasserstände bis auf weiteres für die Schifffahrt gesperrt ist.
Waterways Ireland wird ein Dammsystem an der Oberseite der Corlura-Brücke installieren, um die Wasserstände zu kontrollieren und die Unversehrtheit der Kanalufer zu schützen. Dieses Dammsystem wird so lange bestehen bleiben, bis die Wasserstände sinken. Solange dieser Damm besteht, wird dieser Abschnitt der Schifffahrt unpassierbar sein. Waterways Ireland wird den Damm entfernen, sobald die Wasserstände sinken.
Waterways Ireland bedauert jegliche Unannehmlichkeiten, die dies verursachen könnte, und dankt seinen Kunden für ihre Zusammenarbeit.