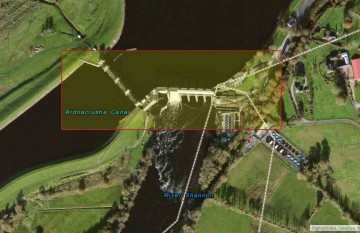 MARINE NOTICE, No. 09 of 2021
Shannon Navigation
Ardnacrusha Headrace Canal
Ardnacrusha Power Station to Parteen Weir
Essential diving and civil engineering maintenance works, From 15 Feb to 15 March 2021
Waterways Ireland wishes to advise Masters of Vessels and waterways users on the Shannon Headrace Canal between Ardnacrusha Power Station and Parteen Weir that essential diving and civil engineering maintenance work will be taking along a section of the embankment between Clonlara and Blackwater Bridges on dates between 15th February and 15th March 2021.
The Headrace Canal will remain open during these works and buoys / markers will be placed in the canal to highlight the works area. Waterways users are asked to maintain due attention when traversing this section of the Shannon and to maintain their distance from the works.
Waterways Ireland wishes to thank its customers for their cooperation.
P Harkin, Inspector of Navigation, 16 Feb 2021, Tel:00 353(0)90 6494232
Parteen Weir; © CHB

Lock Parteen Weir; © CHB

Blackwater Bridge; © CHB

Clonlara Bridge; © CHB

Ardnacrusha Power Station; © CHB

Ardnacrusha Power Station; © CHB

 

Ardnacrusha ESB Turbine Hall; © CHB

 

Ardnacrusha ESB Control Center; © CHB

 
Ardnacrusha Headrace-Kanal
Ardnacrusha Kraftwerk bis Parteen Weir
Notwendige Tauch- und Tiefbauarbeiten, vom 15. Februar bis 15. März 2021
Waterways Ireland möchte die Schiffsführer und Wasserstraßenbenutzer auf dem Shannon Headrace Canal zwischen Ardnacrusha Power Station und Parteen Weir darauf hinweisen, dass zwischen dem 15. Februar und dem 15. März 2021 an einem Abschnitt des Dammes zwischen den Brücken Clonlara und Blackwater wesentliche Tauch- und Tiefbauarbeiten durchgeführt werden.
Der Headrace-Kanal wird während dieser Arbeiten geöffnet bleiben und Bojen/Markierungen werden im Kanal platziert, um den Arbeitsbereich zu markieren. Wasserstraßenbenutzer werden gebeten, bei der Durchquerung dieses Abschnitts des Shannon die nötige Aufmerksamkeit walten zu lassen und Abstand zu den Arbeiten zu halten.