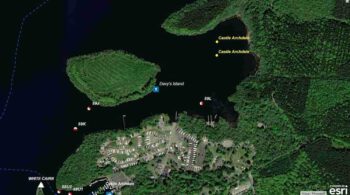 MARINE NOTICE, No 32 of 2021
Erne System, Lower Lough Erne
The Lough Erne (Navigation) Bye-Laws (Northern Ireland) 1978 Section 39
Temporary Prohibition of Motorised Craft at Castle Archdale/Davy's Island
Notice is hereby given that Waterways Ireland will temporarily prohibit the use of motorised craft on a section of Lough Erne located in the vicinity of Castle Archdale Caravan Park and Davy's Island. The area will be temporarily closed to motorised craft from June to October 2021. The designated area will be clearly marked by floating buoys. Any individual wishing to make a submission in relation to this notice or view the associated mapping may do so at https://www.waterwaysireland.org/news-centre/news
Waterways Ireland thanks its customers for their co-operation in relation to this matter.
Patrick Harkin, Inspector of Navigation, 17 June 2021
Erne System, Lower Lough Erne
Die Lough Erne (Navigation) Bye-Laws (Nordirland) 1978 Abschnitt 39
Vorübergehendes Verbot für motorisierte Fahrzeuge bei Castle Archdale/ Davy's Island
Hiermit wird bekannt gegeben, dass Waterways Ireland die Benutzung von motorisierten Fahrzeugen auf einem Abschnitt des Lough Erne in der Nähe des Castle Archdale Caravan Park und Davy's Island vorübergehend verbieten wird. Das Gebiet wird von Juni bis Oktober 2021 vorübergehend für motorisierte Boote gesperrt sein. Das ausgewiesene Gebiet wird durch schwimmende Bojen deutlich gekennzeichnet sein. Alle Personen, die eine Stellungnahme zu dieser Bekanntmachung abgeben oder die zugehörige Karte einsehen möchten, können dies unter https://www.waterwaysireland.org/news-centre/news tun.
Waterways Ireland dankt seinen Kunden für ihre Kooperation in dieser Angelegenheit.