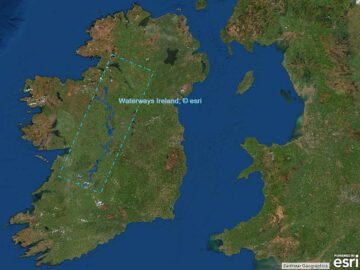 MARINE NOTICE, No. 61 of 2021
Shannon Navigation
Algal Bloom
Waterways Ireland wishes to advise users of the Shannon Navigation that a number of locations throughout the Shannon in particular harbours and bays have or are likely to experience algal blooms in recent days and weeks. This seasonal phenomenon is evident as a light "Pea-green" and /or Green, Blue or Blue-Green colour in the water column on or near the water's surface.
Information from the HSE guidance document "Interim Fresh Water Algal Bloom Guidance" is as follows:
Affected waters may contain high levels of blue-green algae which may cause illness in humans and animals including pets
Avoid contact with scum, visible algae and surrounding water
Do not swim or partake in immersive watersport activities in water near visible algae
Do not touch scum on the shore
Wash hands if you touch the algal material
Keep children and pets away from the water's edge
Do not let pets drink the water.
Wash pets if they come into contact with water
Waterways Ireland thanks its customers for their understanding in relation to this matter.
P Harkin, Inspector of Navigation, 15 September 2021
Algenblüte
Waterways Ireland möchte die Nutzer der Shannon Navigation darauf hinweisen, dass an einigen Stellen des Shannon, insbesondere in Häfen und Buchten, in den letzten Tagen und Wochen eine Algenblüte aufgetreten ist oder wahrscheinlich auftreten wird. Dieses jahreszeitlich bedingte Phänomen zeigt sich durch eine leichte "erbsengrüne" und/oder grüne, blaue oder blaugrüne Färbung der Wassersäule an oder nahe der Wasseroberfläche.
Die Informationen aus dem HSE-Leitfaden "Interim Fresh Water Algal Bloom Guidance" lauten wie folgt:
Betroffene Gewässer können hohe Mengen an Blaualgen enthalten, die bei Menschen und Tieren, einschließlich Haustieren, Krankheiten verursachen können.
Vermeiden Sie den Kontakt mit Ablagerungen, sichtbaren Algen und dem umgebenden Wasser.
Schwimmen Sie nicht in Gewässern mit sichtbaren Algen und betreiben Sie keinen Wassersport.
Berühren Sie keinen Schaum am Ufer
Waschen Sie sich die Hände, wenn Sie das Algenmaterial berührt haben.
Halten Sie Kinder und Haustiere vom Uferbereich fern.
Lassen Sie Haustiere nicht aus dem Wasser trinken.
Waschen Sie Haustiere, wenn sie mit dem Wasser in Berührung gekommen sind.
Waterways Ireland dankt seinen Kunden für ihr Verständnis in dieser Angelegenheit.