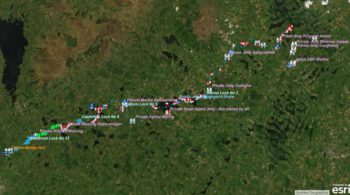 Marine Notice, No. 12 of 2022
Shannon Erne Waterway
Woodford River
Blockage and High Water Levels Generally
Waterways Ireland wishes to advise masters and owners of vessels of the following issues currently affecting navigation on the canal:
Following storm Franklin, the Woodford River is completely blocked to navigation by two partially submerged fallen trees immediately upstream of Old Aghalane Bridge.
There are now high-water levels in all areas of the Shannon Erne Waterway.
The by-pass current across the navigation on the lower side of Lock 15 is strong and could affect low powered vessels.
Air draft under bridges has been reduced as a result of the high-water levels and masters of craft are advised to navigate with additional caution in the vicinity of bridges.
Masters of vessels should consult with the Water Patrollers prior to undertaking a passage on the Shannon Erne Waterway.
P Harkin, Inspector of Navigation, 22 Feb 2022
| | |
| --- | --- |
| SEW Lock 3 Skelan | SEW Lock 3 Skelan |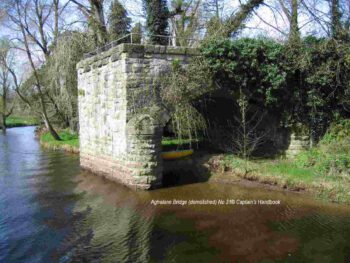 Shannon Erne Waterway
Blockierung des Woodford River und hohe Wasserstände im Allgemeinen
Waterways Ireland möchte Kapitäne und Schiffseigner auf die folgenden Probleme hinweisen, die derzeit die Schifffahrt auf dem Kanal beeinträchtigen:
Nach dem Sturm Franklin ist der Woodford River durch zwei teilweise umgestürzte Bäume unmittelbar stromaufwärts der Old Aghalane Bridge für die Schifffahrt vollständig blockiert.

 

In allen Bereichen des Shannon Erne Waterway herrschen jetzt hohe Wasserstände.
Die Umgehungsströmung durch die Schifffahrt auf der Unterseite der Schleuse 15 ist stark und könnte Schiffe mit geringer Leistung beeinträchtigen.
Die Durchfahrtshöhe unter den Brücken ist aufgrund des hohen Wasser-standes verringert, und den Schiffsführern wird empfohlen, in der Nähe von Brücken besonders vorsichtig zu navigieren.
Die Kapitäne von Schiffen sollten sich mit den Wasserpatrouillen in Verbindung setzten, bevor sie eine Passage auf dem Shannon Erne Waterway unternehmen.