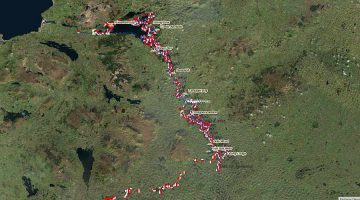 MARINE NOTICE, No. 115 of 2022
Erne System
Muckross Slipway and Jetty Closure
Waterways Ireland wishes to advise Masters of Vessels and waterway users on the Erne System, that the Muckross slipway and adjacent jetty (newest site) will be closed for a period of two weeks commencing 03 November 2022 for refurbishment works.
During this time, the older slipway and jetty at Muckross will remain open. See attached closure location.
Waterways Ireland thanks its customers for their cooperation.
P. Harkin, inspector Of Navigation, Waterways Ireland, 02 November 2022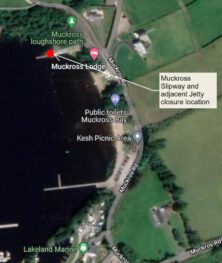 Erne-System, Schließung der Muckross Slipway und des Anlegers
Waterways Ireland möchte die Kapitäne von Schiffen und die Nutzer der Wasserstraßen im Erne-System darauf hinweisen, dass die Muckross-Hafenanlage und der angrenzende Anleger (neuester Standort) ab dem 03. November 2022 für einen Zeitraum von zwei Wochen wegen Renovierungs-arbeiten geschlossen werden.
Während dieser Zeit bleiben die ältere Helling und die Anlegestelle in Muckross geöffnet. Siehe beigefügten Schließungsort.
Waterways Ireland dankt seinen Kunden für ihre Mitarbeit.