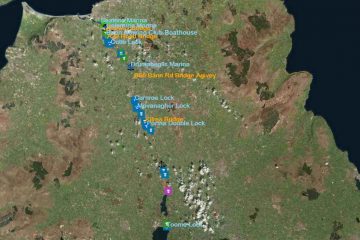 MARINE NOTICE, No. 130 of 2022
Lower Bann Navigation
Low water levels Updated
Waterways Ireland wishes to advise all masters of vessels and users of the Lower Bann navigation that water levels between Carnroe Weir and the The Cutts have returned to normal. Subsequently, navigation restrictions are lifted along this section of the Lower Bann navigation.
Waterways Ireland thanks its customers for their understanding in relation to this matter.
P Harkin, Inspector of Navigation, 16 December 2022
Lower Bann Navigation, niedrige Wasserstände, Aktualisiert
Waterways Ireland möchte alle Schiffsführer und Benutzer der Lower Bann Navigation darauf hinweisen, dass sich die Wasserstände zwischen Carnroe Weir und The Cutts wieder normalisiert haben. Die Schifffahrtsbeschränkungen auf diesem Abschnitt der Lower Bann Navigation sind damit aufgehoben.
Waterways Ireland dankt seinen Kunden für ihr Verständnis in dieser Angelegenheit.