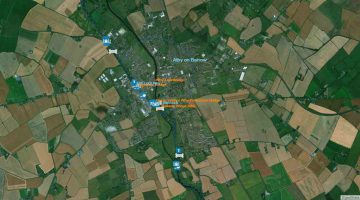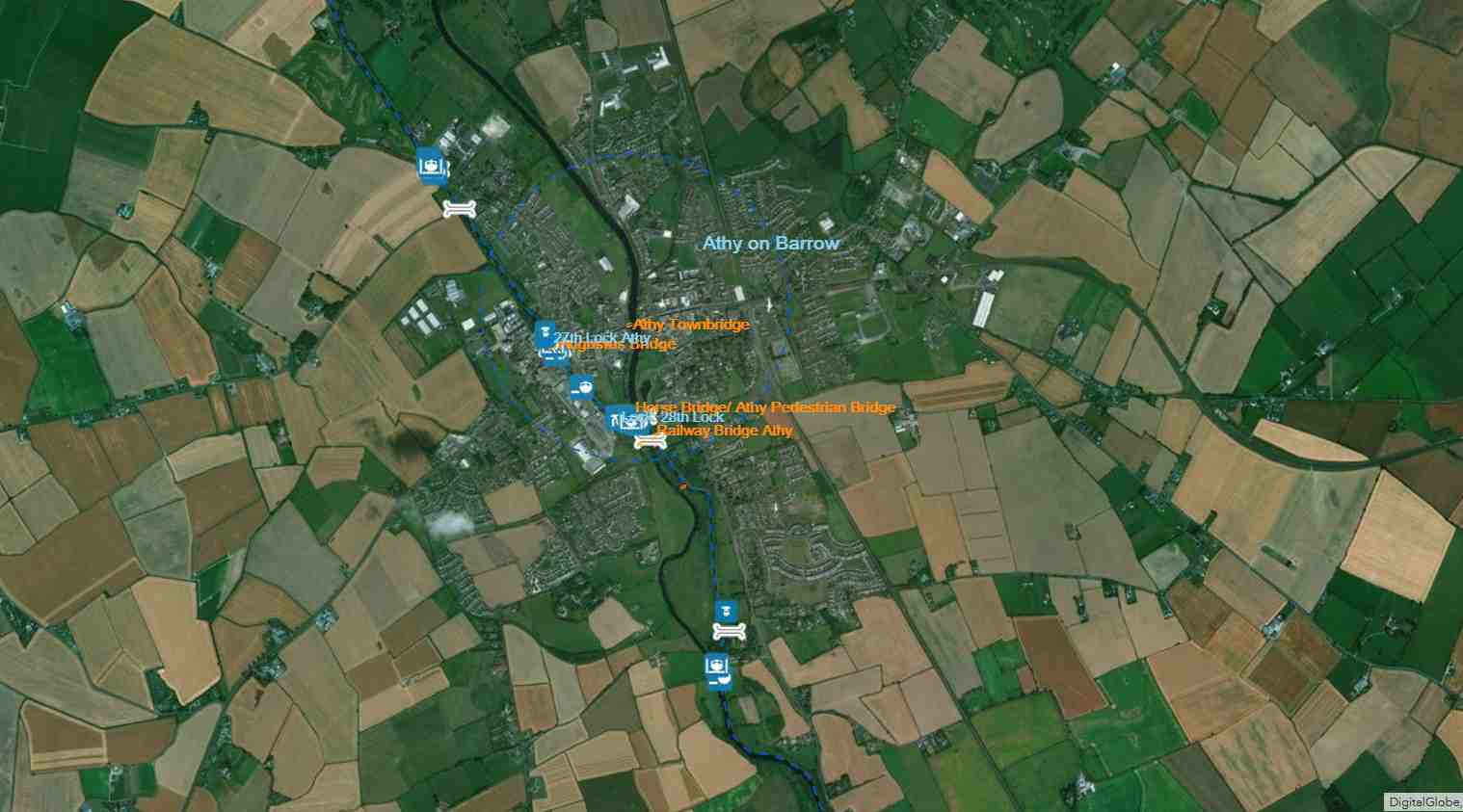 MARINE NOTICE, No. 02 of 2023
Barrow Navigation
Athy
Navigation Closures – Bridge Construction
Waterways Ireland wishes to advise all masters of vessels and waterways users that the construction of the Athy Distributer Road Bridge is underway and has progressed to the stage where interaction with Navigation and Trackway users is required. The new Road Bridge is being built approx. 30 metres downstream of the currently disused Wolfhill Railway Bridge.
The Navigation and Trackway will be closed to traffic between 28th Lock, Horse Bridge and Ardreigh Lateral Canal at the following times to facilitate the lifting and placing of new bridge beams:
Monday 23rd January 2023 – 07:00 to 12:00hrs
Tuesday 24th January 2023 – 07:00 to 12:00hrs
Wednesday 25th January 2023 – 07:00 to 12:00hrs
Masters of vessels are advised to exercise caution in the vicinity of the works and to follow the instructions of safety personnel in the area. Further temporary closures and restrictions will be required for bridge deck installation and Wolfhill Railway Bridge refurbishment, details will be advised in due course.
Waterways Ireland thanks its customers for their understanding in this matter.
P Harkin, Inspector of Navigation, 16 Jan 2023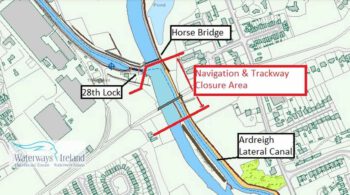 | | |
| --- | --- |
| Railway-Bridge, View through to Ardreigh Canal | Athy Lock 28 and Horse Bridge |
Barrow Navigation, Athy, Navigationssperrungen – Brückenbauarbeiten
Waterways Ireland möchte alle Kapitäne von Schiffen und Nutzer von Wasserstraßen darauf hinweisen, dass der Bau der Athy Distributer Road Bridge im Gange ist und so weit fortgeschritten ist, dass eine Interaktion mit den Nutzern der Schifffahrts- und Wasserwege erforderlich ist. Die neue Straßenbrücke wird ca. 30 Meter flussabwärts der derzeit stillgelegten Wolfhill Railway Bridge gebaut.
Die Schifffahrts- und Bahntrasse wird zwischen der 28. Schleuse, der Pferdebrücke und dem Ardreigh-Seitenkanal zu den folgenden Zeiten für den Verkehr gesperrt, um das Anheben und Einsetzen der neuen Brückenträger zu ermöglichen:
Montag, 23. Januar 2023 – 07:00 bis 12:00 Uhr
Dienstag, 24. Januar 2023 – 07:00 Uhr bis 12:00 Uhr
Mittwoch, 25. Januar 2023 – 07:00 Uhr bis 12:00 Uhr
Schiffskapitäne werden gebeten, in der Nähe der Arbeiten Vorsicht walten zu lassen und den Anweisungen des Sicherheitspersonals in dem Gebiet Folge zu leisten. Weitere vorübergehende Sperrungen und Einschränkungen werden für die Installation des Brückendecks und die Renovierung der Wolfhill Railway Bridge erforderlich sein; Einzelheiten werden zu gegebener Zeit bekannt gegeben.
Waterways Ireland dankt seinen Gästen für ihr Verständnis in dieser Angelegenheit.