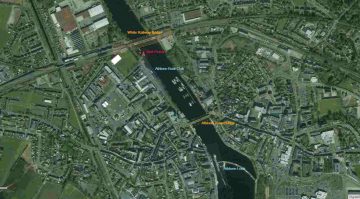 MARINE NOTICE, No. 77 of 2023
Shannon Navigation
South of Athlone, Long Island
Temporary Green markers on East side of the island
Waterways Ireland wishes to advise Masters of Vessels and users of the Shannon Navigation that 2 additional temporary green markers have been placed on the East side of Long Island to prevent boating traffic veering off the main navigation channel. High water levels have made the navigation channel unclear.
Masters of Vessels are requested to proceed with additional caution in the area as high-water levels and fast flows continue to exist.
Waterways Ireland thanks its customers for their cooperation in relation to this matter.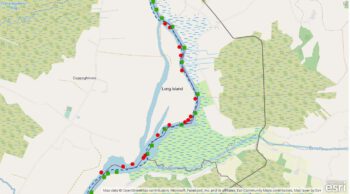 P Harkin, Cdr NS (Rtd), Inspector of Navigation, Waterways Ireland, 16 August 2023
Shannon Navigation, Südlich von Athlone, Long Island
Vorübergehende grüne Markierungen auf der Ostseite der Insel
Waterways Ireland möchte die Schiffsführer und Benutzer der Shannon Navigation darauf hinweisen, dass auf der Ostseite von Long Island zwei zusätzliche vorübergehende grüne Markierungen aufgestellt wurden, um zu verhindern, dass der Bootsverkehr von der Hauptfahrrinne abweicht. Der hohe Wasserstand hat die Fahrrinne unübersichtlich gemacht.
Die Kapitäne der Schiffe werden gebeten, in diesem Gebiet mit zusätzlicher Vorsicht vorzugehen, da weiterhin hohe Wasserstände und schnelle Strömungen herrschen.
Waterways Ireland dankt seinen Gästen für ihre Kooperation in dieser Angelegenheit.