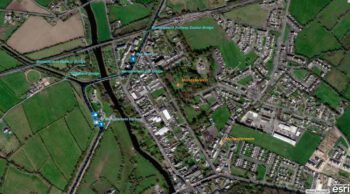 MARINE NOTICE, No. 85 of 2023
Grand Canal, Barrow Line
Monasterevin
Temporary Bridge Closure on 24th August 2023
Waterways Ireland wishes to advise masters of all craft that Monasterevin Lifting Bridge will be closed for canal traffic on Thursday 24th August. This one-day closure is to facilitate emergency road repairs.
The bridge will return to normal operations on Friday 25th August.
Waterways Ireland wishes to apologise for any inconvenience that this temporary closure may cause its customers.
P Harkin, Inspector of Navigation, 23 August 2023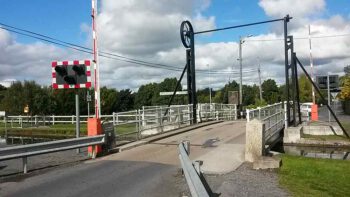 Grand Canal, Barrow Line, Monasterevin
Vorübergehende Brückensperrung am 24. August 2023
Waterways Ireland möchte die Kapitäne aller Wasserfahrzeuge darauf hinweisen, dass die Monasterevin Hebebrücke am Donnerstag, den 24. August, für den Kanalverkehr gesperrt wird. Diese eintägige Sperrung dient dazu, dringende Straßenreparaturen durchzuführen.
Die Brücke wird am Freitag, dem 25. August, wieder in Betrieb genommen.
Waterways Ireland bittet um Verständnis für die Unannehmlichkeiten, die diese vorübergehende Schließung für die Gäste mit sich bringen kann.