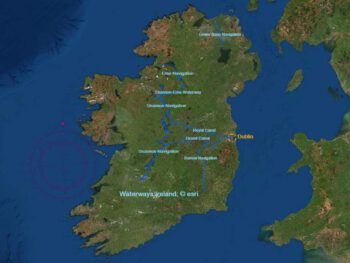 Marine Notice, No. 95 of 2023
Lower Bann Navigation
Blue-Green Algae Blooms
Advisory Information
Waterways Ireland wishes to advise that Blue-Green algae is present at a number of locations on the Lower Bann Navigation. Blue-Green algae blooms can be toxic to humans and potentially lethal to animals, under certain conditions.
Waterways Ireland wishes to advise all recreational users of the Lower Bann including pet owners, both on and adjacent to the waterways, to comply with any notices placed by the Local Authority or Waterways Ireland and avoid contact or immersive and semi-immersive activities in areas where Blue-Green algae are present.
Waterways Ireland jetties and slipways remain open to boating, however the public are advised to refrain from immersive activities including swimming and the launching of paddle boards, canoes, kayaks and personal watercraft. Pet owners should not allow pets to drink from or swim in affected areas. The surface of slipways can become slippery due to algae build up, Waterways Ireland advise additional caution when boaters are using slipway facilities in affected areas.
Please report encounters with Blue-Green algae blooms on the inland waterways through either of the following means:
Local Authority Environmental Health Section
Via the Bloomin' Algae App which is free to download from the AppStore or Google Play
Through the NIEA incident hotline on 0800 80 70 60 or email emergency-pollution@daera-ni.gov.uk
Waterways Ireland thanks its customers for their cooperation in relation to this matter.
P Harkin, Inspector of Navigation, 16 September 2023
| | |
| --- | --- |
| A green algae on the water Description | A green algae in a canal Description |
Navigation im Unterlauf des Banns, Blaualgenblüten
Hinweisende Informationen
Waterways Ireland möchte darauf hinweisen, dass an einigen Stellen der Lower Bann Navigation Blaualgen auftreten. Blaualgenblüten können für Menschen giftig und für Tiere unter bestimmten Umständen tödlich sein.
Waterways Ireland möchte alle Freizeitnutzer des Lower Bann, einschließlich der Besitzer von Haustieren, sowohl auf den Wasserstraßen als auch in deren Nähe, darauf hinweisen, alle von der örtlichen Behörde oder Waterways Ireland aufgestellten Hinweise zu beachten und den Kontakt mit den Blaualgen sowie das Eintauchen oder das halbe Eintauchen in Bereiche, in denen Blaualgen vorhanden sind, zu vermeiden.
Die Anlegestellen und Slipanlagen von Waterways Ireland sind weiterhin für den Bootsverkehr geöffnet, die Öffentlichkeit wird jedoch gebeten, auf Tauchaktivitäten wie Schwimmen und das Zuwasserlassen von Paddelbrettern, Kanus, Kajaks und Wassersportfahrzeugen zu verzichten. Haustierbesitzer sollten ihren Tieren nicht erlauben, in den betroffenen Bereichen zu trinken oder zu schwimmen. Die Oberfläche von Slipanlagen kann aufgrund von Algenablagerungen rutschig werden. Waterways Ireland rät zu zusätzlicher Vorsicht, wenn Bootsfahrer Slipanlagen in betroffenen Gebieten benutzen.
Bitte melden Sie Begegnungen mit Blaualgenblüten auf den Binnenwasserstraßen auf einem der folgenden Wege:
Abteilung Umwelt und Gesundheit der örtlichen Behörde
Über die Bloomin' Algae App, die Sie kostenlos im AppStore oder bei Google Play herunterladen können
Über die NIEA-Hotline für Vorfälle unter 0800 80 70 60 oder per E-Mail an emergency-pollution@daera-ni.gov.uk
Waterways Ireland bedankt sich bei seinen Kunden für ihre Mithilfe.