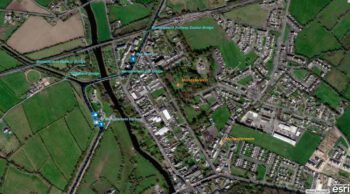 MARINE NOTICE, No. 121 of 2022
Grand Canal, Barrow Line
Monasterevin
Reduction of water levels for essential bank repair works.
28th November to 2nd December 2022
Waterways Ireland wishes to advise masters of vessels in Belle Harbour and all masters of vessels and users of the Grand Canal Barrow Line that the water levels in the canal between the 24th Lock Ballykelly and the 25th Lock Monasterevin will be reduced by approximately 600mm for essential bank repair works. Reduction of levels will commence at 9am on 28th November.
Waterways Ireland regrets any inconvenience caused to its customers by these maintenance works.
P Harkin, Inspector of Navigation, Waterways Ireland, 18 November 2022
| | |
| --- | --- |
| Grand Canal Monasterevin Lifting Bridge © by JE CCL | Grand Canal Belle Harbour No. 1 © by BJ. Goggin |
| Grand Canal Belle Harbour No. 2 © by BJ. Goggin | Grand Canal Belle Harbour No. 3 © by BJ. Goggin |
Grand Canal, Barrow Line, Monasterevin
Absenkung des Wasserstands für notwendige Reparaturarbeiten am Ufer
28. November bis 2. Dezember 2022
Waterways Ireland möchte die Kapitäne von Schiffen in Belle Harbour sowie alle Kapitäne von Schiffen und Benutzer des Grand Canal Barrow Line darauf hinweisen, dass der Wasserstand des Kanals zwischen der 24. Schleuse Ballykelly und der 25. Schleuse Monasterevin wegen notwendiger Reparaturarbeiten an den Ufern um etwa 600 mm gesenkt wird. Die Absenkung der Pegelstände beginnt am 28. November um 9 Uhr morgens.
Waterways Ireland bedauert die Unannehmlichkeiten, die seinen Kunden durch diese Wartungsarbeiten entstehen.