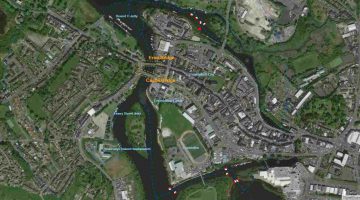 MARINE NOTICE, No. 90 of 2023
Erne System – Enniskillen
Charity Event – Hydrobikeathon
Fri 08 and Sat 09 September 2023
Waterways Ireland wishes to inform masters of vessels and waterway users on the Erne System that the 2023 Hydrobikeathon will take place around the town of Enniskillen on Friday 8th and Saturday 9th September.
The event will involve groups of hydrobikes completing laps of Enniskillen town and Castle Island for a period of 24 hours commencing at 17:00hrs Friday 8th and finishing at 17:00hrs Saturday 9th September.
Masters of vessels and waterway users are advised to proceed with additional caution, to be aware of small non-motorised craft involved in the charity event and to comply with the instructions of safety boats.
To facilitate this charity event, the Castle Museum Jetty will be closed from 12:00hrs Friday 8th – 18:00hrs Saturday 9th September.
Waterways Ireland thanks its customers for their co-operation in relation to this matter.
P Harkin, Cdr NS (Rtd), Inspector of Navigation, 05 September 2023.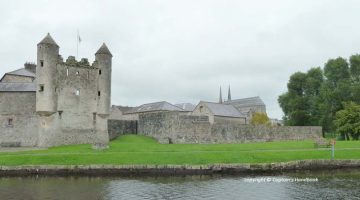 Erne System – Enniskillen
Wohltätigkeitsveranstaltung – Hydrobikeathon, Fr 08. und Sa 09. September 2023
Waterways Ireland möchte die Kapitäne von Schiffen und Wasserstraßenbenutzer auf dem Erne System darüber informieren, dass der Hydrobikeathon 2023 am Freitag, den 8. und Samstag, den 9. September rund um die Stadt Enniskillen stattfinden wird.
Bei der Veranstaltung werden Gruppen von Hydrobikes 24 Stunden lang Runden um die Stadt Enniskillen und Castle Island drehen. Die Veranstaltung beginnt am Freitag, den 8. September, um 17:00 Uhr und endet am Samstag, den 9. September, um 17:00 Uhr.
Schiffskapitäne und Wasserstraßenbenutzer werden gebeten, zusätzliche Vorsicht walten zu lassen, auf kleine nicht motorisierte Fahrzeuge zu achten, die an der Wohltätigkeitsveranstaltung teilnehmen, und den Anweisungen der Sicherheitsboote Folge zu leisten.
Um diese Wohltätigkeitsveranstaltung zu ermöglichen, wird der Castle Museum Jetty von Freitag, den 8. September, 12:00 Uhr bis Samstag, den 9. September, 18:00 Uhr geschlossen.
Waterways Ireland dankt seinen Gästen für ihre Kooperation in dieser Angelegenheit.