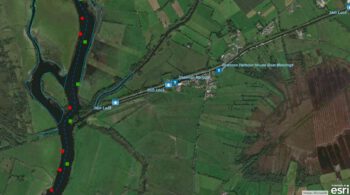 MARINE NOTICE, No. 93 of 2023
Grand Canal – Shannon Harbour
Dive Operations – 18th & 19th September 2023
Waterways Ireland wishes to advise all masters of vessels and waterway users that it will be carrying out under water structural inspections of the North and South quay walls in Shannon Harbour.
This work will be carried out between Griffith Bridge and the 35th Lock on the 18th & 19th of September between 9am and 5pm. This work will include having divers in the water and an Alpha Flag (Divers Flag) will be flown to indicate their presence.
Waterways Ireland will be required to move vessels for the inspection and will return boats to their original positions when completed. Boat owners are advised to check mooring lines of their boats after the work is completed.
Waterways Ireland thanks its customers for their co-operation in relation to this matter.
P Harkin, Inspector of Navigation, Waterways Ireland, 15 September 2023
Grand Canal – Shannon Harbour
Taucheinsätze – 18. und 19. September 2023
Waterways Ireland möchte alle Kapitäne von Schiffen und Nutzer der Wasserstraße darauf hinweisen, dass im Hafen von Shannon Harbour bauliche Inspektionen der nördlichen und südlichen Kaimauern unter Wasser durchgeführt werden. Diese Arbeiten werden zwischen der Griffith Bridge und der 35. Schleuse am 18. und 19. September zwischen 9 und 17 Uhr durchgeführt. Bei diesen Arbeiten werden Taucher im Wasser sein, die mit einer Alpha-Flagge (Taucherflagge) auf ihre Anwesenheit aufmerksam gemacht werden.
Waterways Ireland wird die Boote für die Inspektion versetzen und sie nach Abschluss der Arbeiten wieder an ihre ursprüngliche Position zurückbringen. Bootseigentümern wird empfohlen, nach Abschluss der Arbeiten die Festmacherleinen ihrer Boote zu überprüfen.
Waterways Ireland dankt seinen Gästen für ihre Kooperation in dieser Angelegenheit.