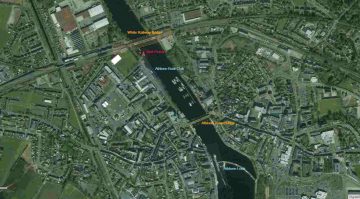 Shannon Navigation
Athlone
Flow Measurements
Waterways Ireland has been advised by the OPW of their intention to take flow measurements from Athlone Town Bridge today Fri 25 Oct and also on Tues 29 Oct.
These measurements will hinder passage through the navigational arch but only for short periods of time. Masters should approach the bridge with due caution and be prepared to delay their passage until the navigation is clear.
Masters are further requested to note any advice or instructions issued by OPW staff involved in the measurement operation. Contact number: 353-(0)868112267.
Waterways Ireland regrets any inconvenience that this may cause its customers.
Charles Lawn, Lt Cdr (rtd), Inspector of Navigation, 18 Oct 2013