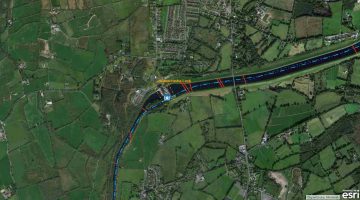 MARINE NOTICE, No. 62 of 2023
Shannon Navigation
Ardnacrusha Tailrace
Parteen Bridge, Repairs
Waterways Ireland wishes to advise Masters of Vessels and users of the Shannon Navigation that an ESB contractor will be carrying out repairs on the tailrace bridge at Parteen from Monday 17th July 2023 for a period of 6 weeks.
The works involve repairing some of the deteriorated structure from a pontoon.
Masters of vessels using the Ardnacrusha tailrace during the repair works should contact the contractor on 087 6494454 prior to entering the tailrace in order to co-ordinate safe passage.
Waterways Ireland thanks its customers for their cooperation.
P Harkin, Inspector of Navigation, Waterways Ireland, 11 July 2023
Shannon Navigation, Ardnacrusha Tailrace, Parteen Brückenreparatur
Waterways Ireland möchte Schiffskapitäne und Nutzer der Shannon Navigation darauf hinweisen, dass ein Auftragnehmer der ESB ab Montag, dem 17. Juli 2023, für einen Zeitraum von sechs Wochen Reparaturen an der Tailrace Bridge bei Parteen durchführen wird.
Bei den Arbeiten wird ein Teil der beschädigten Struktur von einem Ponton aus repariert.
Kapitäne von Schiffen, die während der Reparaturarbeiten den Ardnacrusha-Tailrace benutzen, sollten sich vor der Einfahrt in den Tailrace mit dem Bauunternehmen unter 087 6494454 in Verbindung setzen, um die sichere Durchfahrt zu koordinieren.
Waterways Ireland dankt seinen Gästen für ihre Mitarbeit.