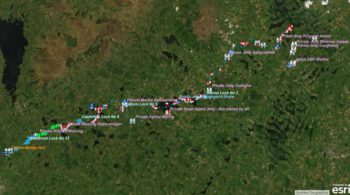 MARINE NOTICE; No: 91 of 2022
Shannon-Erne Waterway
Dredging Operations
Lock 1 (Corraquill) and Lock 2 (Ballyconnell)
Waterways Ireland wishes to advise masters of all craft that maintenance dredging will be taking place on the Shannon-Erne Waterway until Friday 30th September 2022. The dredging will take place in the vicinity of Lock 1 (Corraquill) and at Lock 2 (Ballyconnell). During this operation a floating pontoon will be located on the water with mechanical dredging plant operating. The navigable channel will remain open outside of the immediate area being dredged.
Please comply with safety signage and heed all instructions from safety personnel who will be in the area, the co-operation of Masters is requested at this time.
Waterways Ireland wishes to apologise for any inconvenience that this operation may cause our customers.
Patrick Harkin; Inspector of Navigation; Waterways Ireland; 6th September 2022
Shannon-Erne-Wasserstraße
Ausbaggerungsarbeiten, Schleuse 1 (Corraquill) und Schleuse 2 (Ballyconnell)
Waterways Ireland möchte die Kapitäne aller Wasserfahrzeuge darauf hinweisen, dass auf der Shannon-Erne-Wasserstraße bis Freitag, den 30. September 2022, Unterhaltsbaggerungen durchgeführt werden. Die Ausbaggerung findet in der Nähe von Schleuse 1 (Corraquill) und Schleuse 2 (Ballyconnell) statt. Während dieser Arbeiten wird ein schwimmender Ponton auf dem Wasser liegen und eine mechanische Baggeranlage in Betrieb sein. Die Fahrrinne wird außerhalb des unmittelbaren Bereichs, in dem gebaggert wird, offen bleiben.
Bitte beachten Sie die Beschilderung und befolgen Sie alle Anweisungen des Sicherheitspersonals, das sich in diesem Bereich aufhalten wird; wir bitten die Kapitäne in dieser Zeit um ihre Mithilfe.
Waterways Ireland möchte sich für alle Unannehmlichkeiten entschuldigen, die unseren Gästen durch diese Arbeiten entstehen können.