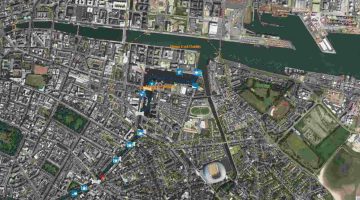 MARINE NOTICE, No. 23 of 2023
Grand Canal, Dublin
Works to Camden Lock (sea lock) in Grand Canal Dock
Lowered water levels from Monday 03 April 2023 for 8 weeks
Waterways Ireland wishes to advise Masters of Vessels and users of the Grand Canal in Dublin that works to Camden Lock in Grand Canal Dock will commence on Monday 03 April 2023.
The water level in Grand Canal Dock will be lowered by approx. 400mm to accommodate the works. Water levels will be gradually lowered during week commencing 27th March 2023 and will remain low for a period of 8 weeks. Masters of vessels should contact Waterways Ireland prior to undertaking passage in Grand Canal Dock during the works.
Waterways Ireland thanks Master of Vessels and canal users for their understanding in relation to this matter.
P Harkin, Inspector of Navigation, Waterways Ireland, 27 March 2023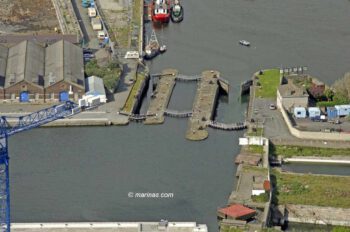 Grand Canal, Dublin
Arbeiten an der Camden Lock (Seeschleuse) im Grand Canal Dock
Ab Montag, dem 03. April 2023, wird der Wasserstand für 8 Wochen abgesenkt
Waterways Ireland möchte die Schiffsführer und Benutzer des Grand Canal in Dublin darauf hinweisen, dass am Montag, den 03. April 2023, Arbeiten an der Camden Lock im Grand Canal Dock beginnen.
Der Wasserstand im Grand Canal Dock wird für die Arbeiten um ca. 400 mm abgesenkt. Der Wasserstand wird in der Woche ab dem 27. März 2023 schrittweise abgesenkt und bleibt dann für einen Zeitraum von 8 Wochen niedrig. Kapitäne von Schiffen sollten Waterways Ireland kontaktieren, bevor sie während der Arbeiten das Grand Canal Dock befahren.
Waterways Ireland dankt den Schiffsführern und Kanalbenutzern für ihr Verständnis in dieser Angelegenheit.