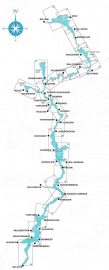 MARINE NOTICE, No 99 of 2017
ALL NAVIGATIONS
WI Website – On line Customer Services
Waterways Ireland is pleased to announce improvement to our online customer services which will be incorporated into the Waterways Ireland website over the coming weeks.
The improvements provide additional online payment portals for services such as permit application, dry dock reservation and over winter mooring fees.
Waterways Ireland encourages customers to book online as manual applications will be phased out.
Online reservation of the dry docks is the first enhancement and is now live at:

Waterways Ireland thanks its customers for their co-operation.
Shane Anderson, Assistant Inspector of Navigation, 29 Sept 2017