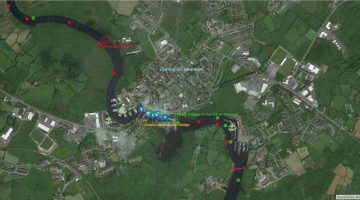 SHANNON NAVIGATION
Carrick Carnival
Waterways Ireland wishes to advise masters of all craft that the Carrick Carnival takes place from Friday 1st June to Sunday 10th June 2018 in Carrick On Shannon.
Vessels operating on the Shannon Navigation should be aware of several events that will occur along and on the navigation:
Fireworks display on Sunday night, 3rd June, from 10:30pm – The Civil Defence will be in place to help control boat traffic and limit its proximity to the fireworks display which takes place in Murray's bay.
Raft Race – This takes place from 3pm to 6pm on Monday 4th June. The civil defence will be in place to restrict movement during this race.
Masters of vessels are requested to proceed with caution during these events.
Waterways Ireland thanks it customers for their cooperation in this matter.
P Harkin, Inspector of Navigation, 01 June 2018
Carrick Carnival
Carrick Carnival
Waterways Ireland möchte die Kapitäne aller Schiffe darauf hinweisen, dass der Carrick Carnival von Freitag, dem 1. Juni bis Sonntag, dem 10. Juni 2018 in Carrick On Shannon stattfindet.
Schiffe, die auf der Shannon-Navigation operieren, sollten sich mehrerer Ereignisse bewusst sein, die entlang und auf der Navigation auftreten werden:
Feuerwerk am Sonntagabend, 3. Juni, ab 22:30 Uhr – Der Bereitschaftsdienst wird eingesetzt, um den Schiffsverkehr zu kontrollieren und seine Nähe zum Feuerwerk in der Bucht von Murray zu begrenzen.
Rafting – Das Rennen findet von 15.00 bis 18.00 Uhr am Montag, den 4. Juni statt. Der Bereitschaftsdienst wird die Bewegung während dieses Rennens einschränken.
Die Kapitäne der Schiffe werden gebeten, bei diesen Ereignissen mit Vorsicht vorzugehen.
Waterways Ireland dankt seinen Kunden für die Zusammenarbeit in dieser Angelegenheit.