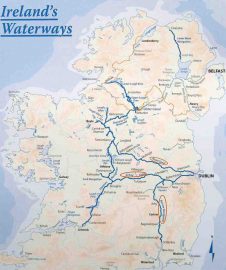 REMOVAL OF VESSELS FROM GRAND CANAL
SHANNON HARBOUR
Canal Act 1986 (Bye-Laws) 1988
Waterways Ireland wishes to advise masters and owners of vessels that:
Vessels with no permit, Article 6(8)
Vessels non-attended and apparently abandoned, Article 6(8)
Vessels doubled moored and causing obstruction (sunk) , Article 27 (3)
Vessels deemed to be / likely to cause a hazard to navigation, Article 33(3),
will be removed from the Grand canal at Shannon Harbour and environs on Monday 17 September 2018 or shortly thereafter. Removed vessels may then be subsequently disposed of in accordance with Article 34(2).
Classes of vessels mentioned above will be stickered (given suitable access) and then removed from the navigation.
Waterways Ireland wishes to remind masters and owners that vessels remaining for more than 5 days in one location require an Extended Mooring Permit in addition to their Combined Mooring and Passage permit.
Waterways Ireland wishes to further advise masters and owners of vessels that Article 38(l) states – "No person shall cause or permit any polluting matter to enter the canals, or deposit or cause to be deposited waste oil or any offensive matter on any part of the canal property". Waterways Ireland intends inspecting vessels for operational effluent holding tanks commencing with Shannon Harbour on Monday 17 September 2018.
Waterways Ireland wishes to thank their customers for their cooperation in this matter.
P Harkin, Inspector of Navigation, 10 August 2018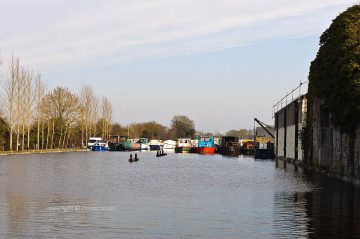 Waterways Ireland möchte Kapitäne und Eigentümer von Schiffen darauf hinweisen:
Schiffe ohne Genehmigung, Artikel 6 Absatz 8
Nicht besetzte und scheinbar stillgelegte Schiffe, Artikel 6 Absatz 8
Verdoppelte Verankerung von Schiffen, die ein Hindernis darstellen (versenkt), Artikel 27 (3)
Schiffe, von denen angenommen wird, dass sie eine Gefahr für die Schifffahrt darstellen, Artikel 33 Absatz 3, wird am Montag, den 17. September 2018 oder kurz danach aus dem Grand Canal in Shannon Harbour und Umgebung entfernt. Die entfernten Schiffe können anschließend gemäß Artikel 34 Absatz 2 beseitigt werden.
Die oben genannten Schiffstypen werden mit einem Aufkleber versehen und dann aus der Navigation entfernt.
Waterways Ireland möchte die Kapitäne und Eigner daran erinnern, dass Schiffe, die länger als 5 Tage an einem Ort bleiben, zusätzlich zu ihrer kombinierten Liege- und Durchfahrtsgenehmigung eine erweiterte Liegegenehmigung benötigen.
Waterways Ireland möchte die Kapitäne und Besitzer von Schiffen weiter darauf hinweisen, dass Artikel 38(l) besagt: "Niemand darf das Eindringen von Schadstoffen in die Kanäle, die Ablagerung von Altöl oder andere anstößige Stoffe auf irgendeinem Teil des Kanaleigentums verursachen oder zulassen". Waterways Ireland beabsichtigt, ab Montag, dem 17. September 2018, Schiffe auf betriebsbereite Abwassertanks zu untersuchen.