| | |
| --- | --- |
| Inland Waterway; © WI | Shannon Habour |
GRAND, ROYAL AND BARROW NAVIGATIONS
Permit Requirements for Mooring of Vessels and
Prohibition of discharge of Polluting matter (Holding Tanks)
Waterways Ireland wishes to advise all Masters of vessels that any owner wishing to use the canals (Royal, Grand and Barrow Navigation) is required to purchase an annual Combined Mooring & Passage Permit (CMP). This allows vessels on the canals and to moor for up to 5 days in any one location.
A CMP permit is adequate for short or infrequent visits to the navigations where a vessel is not moored for more than 5 days in a single location or will be removed from the navigation after each use. Additionally, if the vessel continuously cruises i.e. moves every 5 days, a Combined Mooring and Passage (CMP) permit will suffice.
Owners wishing to moor for a period in excess of 5 days in one location will require an Extended Mooring Permit (EMP).
An EMP provides a Waterways Ireland designated mooring location where the vessel may be moored for up to 12 months when it is not being used for cruising.
Owners are requested to familiarise themselves with the permit requirements before making an application.
Applications for Extended Mooring Permit (EMP) can only be made by owners who hold a Combined Mooring and Passage Permit (CMP). Both may be applied for simultaneously using the same form.
Waterways Ireland further wishes to further advise masters and owners of vessels that Article 38(l) of the Canals Act 1986, (Bye-Laws) 1988 states – "No person shall cause or permit any polluting matter to enter the canals, or deposit or cause to be deposited waste oil or any offensive matter on any part of the canal property".
Waterways Ireland thanks all vessel owners and operators for their co-operation in relation to this matter.
P Harkin, Inspector of Navigation, 03 October 2018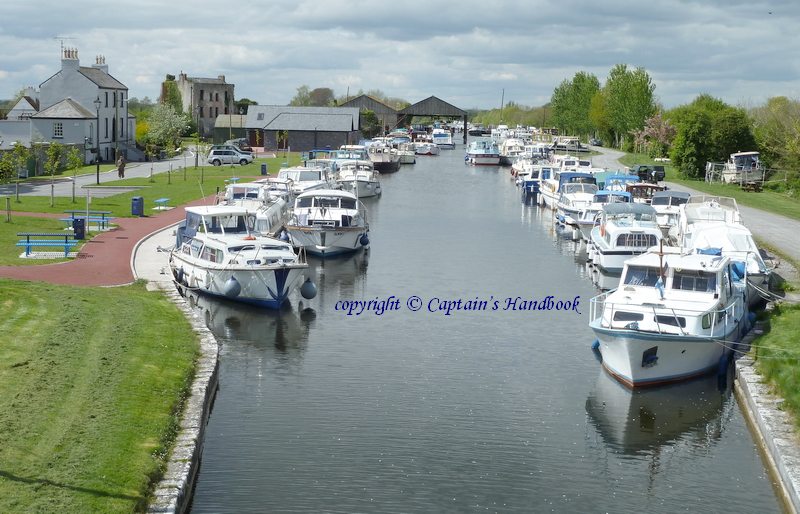 Genehmigungspflichten für das Anlegen von Schiffen und Verbot der Ableitung von Schadstoffen (Lagertanks)
Waterways Ireland möchte alle Kapitäne von Schiffen darauf hinweisen, dass jeder Eigentümer, der die Kanäle nutzen möchte (Royal, Grand und Barrow Navigation), verpflichtet ist, eine jährliche kombinierte Anker- und Durchfahrtsgenehmigung (Combined Mooring & Passage Permit, CMP) zu erwerben. Dadurch können Schiffe auf den Kanälen und bis zu 5 Tage an einem Ort anlegen.
Eine CMP-Genehmigung ist ausreichend für kurze oder seltene Besuche der Navigationen, bei denen ein Schiff nicht länger als 5 Tage an einem einzigen Ort festgemacht hat oder nach jedem Einsatz aus der Navigation entfernt wird. Wenn das Schiff kontinuierlich fährt, d.h. sich alle 5 Tage bewegt, genügt zusätzlich eine kombinierte Liege- und Durchfahrtsgenehmigung (Combined Mooring and Passage, CMP).
Eigentümer, die für einen Zeitraum von mehr als 5 Tagen an einem Standort anlegen möchten, benötigen eine erweiterte Anlegegenehmigung ("Extended Mooring Permit", EMP).
Ein EMP stellt einen von Waterways Ireland benannten Liegeplatz zur Verfügung, an dem das Schiff bis zu 12 Monate lang festgemacht werden kann, wenn es nicht für Fahrten genutzt wird.
Die Eigentümer werden gebeten, sich vor Antragstellung mit den Genehmigungspflichten vertraut zu machen.
Anträge auf eine erweiterte Verankerungsgenehmigung (EMP) können nur von Eigentümern gestellt werden, die im Besitz einer kombinierten Anker- und Durchgangsgenehmigung (CMP) sind. Beide können gleichzeitig mit dem gleichen Formular beantragt werden.
Waterways Ireland möchte die Kapitäne und Schiffseigner weiter darüber informieren, dass Artikel 38(l) des Canals Act 1986, (Bye-Laws) 1988 besagt: "Niemand darf verursachen oder zulassen, dass umweltschädliche Stoffe in die Kanäle gelangen, oder Altöl oder andere anstößige Stoffe auf irgendeinem Teil des Kanalvermögens deponieren oder deponieren lassen".
Waterways Ireland dankt allen Schiffseignern und Betreibern für ihre Zusammenarbeit in dieser Angelegenheit.