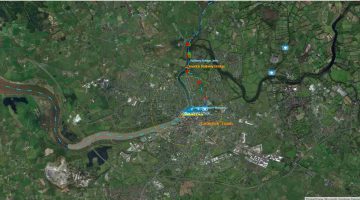 SHANNON NAVIGATION
Limerick – Railway Jetties Removal for Winter Period
Waterways Ireland wishes to advise masters and owners of vessels that the railway bridge waiting Jetties in Limerick have been removed for the winter months. The jetties will be reinstalled in March 2019.
Waterways Ireland thanks its customers for their cooperation.
P Harkin, Inspector of Navigation, 17 December 2018
Limerick – Entfernung der Railway Jetties für den Winterbetrieb
Waterways Ireland möchte die Kapitäne und Schiffseigentümer darauf hinweisen, dass der Jettie an Eisenbahnbrücke, in Limerick, für die Wintermonate entfernt wurde. Die Anlegestellen werden im März 2019 wieder eingebaut.