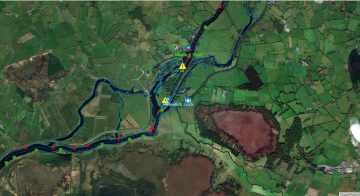 SHANNON NAVIGATION
Meelick Weir Works
Reduced Speed Limit
Waterways Ireland wishes to advise masters of all craft that construction works have commenced on Meelick Weir and will continue until early 2020.
A reduced speed limit of 5kmph has been introduced from Meelick Weir upstream for 2000 metres for the duration of the works.
Masters of vessels are requested to proceed with caution during these works.
Waterways Ireland thanks it customers for their cooperation in this matter.
P Harkin, Inspector of Navigation, 27 May 2019
| | |
| --- | --- |
| Meelick Weir © CHB | Meelick Weir © CHB |
| Meelick Weir; © CHB | Meelick Weir; © CHB |
Meelick Wehranlagen, Reduzierte Geschwindigkeitsbegrenzung
Waterways Ireland möchte die Kapitäne aller Schiffe darüber informieren, dass mit den Bauarbeiten am Meelick Weir begonnen wurde und bis Anfang 2020 dauern wird.
Vom Meelick Wehr flussaufwärts wurde für die Dauer der Arbeiten eine reduzierte Höchstgeschwindigkeit von 5 km/h bis 2000 Meter eingeführt.
Die Kapitäne der Schiffe werden gebeten, bei diesen Bauarbeiten mit Vorsicht vorzugehen.
Waterways Ireland dankt seinen Kunden für die Zusammenarbeit in dieser Angelegenheit.